Bitcoin $BTCUSD just shot up above 7000. The rally since 6000 is different from the rally from 3000 to 6000. It represents fresh inflow of cash, which must have been induced by the CME news.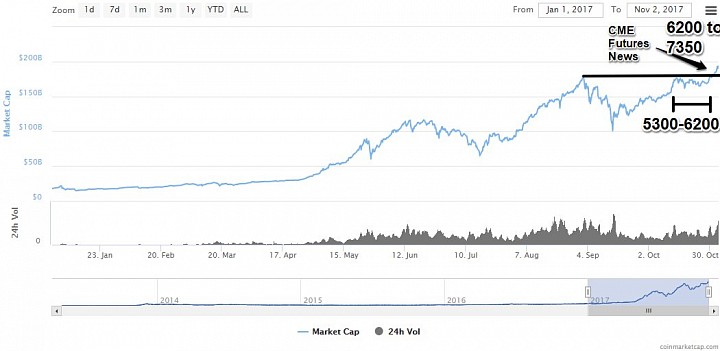 Fresh Blood is Good:
- The above chart shows the total market cap in the cryptocurrency space.
- When price was rallying from 5300 to 6200 (historic highs), the market cap was still below that September high.
- Remember that dip in September followed the Jamie Diamond comment and the China band,
- The flow came back in, but from 5300 to 6200, the gain was due to a shift from Altcoins back into big daddy Bitcoin.
- When you look at the Crypto cap excluding Bitcoin (chart below), shows that as Bitcoin extended the rally above 5300, altcoin cap has been dipping. This includes Etherum $ETHUSD and Litecoin $LTCUSD.
- Then, the rally above 6400 was coupled with an increase in TOTAL CAP while ALT CAP was flat. This reflects FRESH CASH into the system - a good sign for this asset class.
What does this mean?
- In a way, Bitcoin is the new gold. The standard protocol.
- It is gaining from both external inflow and flow from altcoins.
- Now, if you see Bitcoin dipping, but the total cap remains high with alt coin cap rising, don't worry.
- These altcoin flow will likely go back to bitcoin flow in periods of uncertainty (like fiat to gold in the past).