Seadrill Partners Can Weather Downturn: What about Its Dividends?
Total backlog
Seadrill Partners' (SDLP) has a total backlog of $4.3 billion, which is 247% of its 2015 revenue. This is the highest among its peers.
Although the company has a strong backlog, its average contract duration is only 2.5 years, which is comparatively lower than its peers. A company's backlog helps to indicate what its future revenue may be.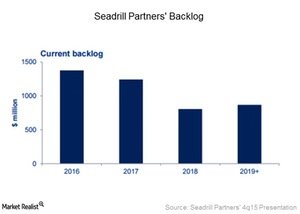 Strong 2016 backlog
Out of Seadrill Partners' (SDLP) 11 rigs, ten are fully contracted throughout 2016. Seadrill Partners' backlog for...
More