Just a day after flailing, scandal-ridden Deutsche Bank shocked investors with the latest corporate restructuring, one which saw its investment bank split in two and which saw the termination of its IB-head Colin Fan, the FT reports of another epic snafu involving the German megabank (with over $60 trillion in derivatives), which this past summer mistakenly paid a hedge fund client $6 billion in a wire transfer "fat finger" (just shy of the $7 billion Q3 loss the bank preannounced two weeks ago).
According to the FT, the bank bank recovered the money from the US hedge fund the next day but, as it also notes, "the incident in its London-based forex team was an embarrassing blow for the bank, which is already under intense scrutiny from regulators."
The reason for the fat finger: some intern did not know the difference between net and gross:
The $6bn trade was processed by a junior member of the bank's forex sales team in June while his boss was on holiday, according to two people familiar with the matter. Instead of processing a net value, the person processed a gross figure. This meant the trade had "too many zeroes", said one of the people.
"Too many zeroes", as everyone knows, is the technical term for you royally fucked up.
The logical question is how not a single alarm went off before the "fat fingered" wire transfer was concluded: "the $6bn error raises questions about why it was not spotted under the bank's "four eyes principle", requiring every trade to be reviewed by another person before being processed."
The answer is that there simply is no supervision and no safeguards when it comes to such gargantuan sums of money flowing around.
The bank reported the incident to the US Federal Reserve, the European Central Bank and the UK Financial Conduct Authority. Two people familiar with the trade said such mistakes were surprisingly common, but ones of that size were rare. Deutsche declined to comment.
In other words, with one fell swoop, a "junior banker" could singlehandedly have pushed the bank into insolvency had he dealt with a hedge fund that was not quite as willing to part with the outsized "gain."
The news explains why after surging yesterday on the latest round of disappointing restructuring news, which for DB are now an anual event...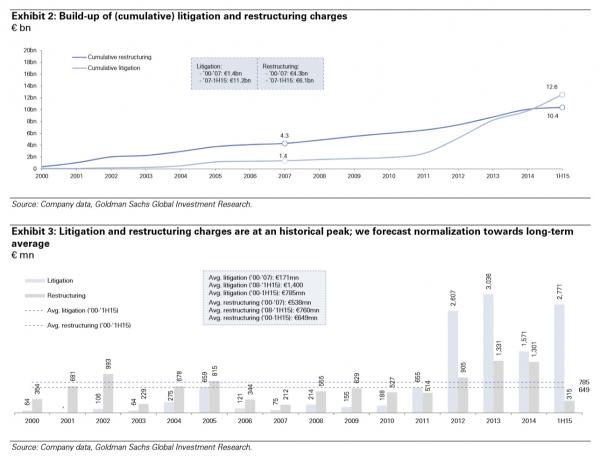 ... DB's stock promptly plunged in what some may say was another "fat finger" but was clearly exasperated sellers saying goodbye to a bank which clearly has no internal controls.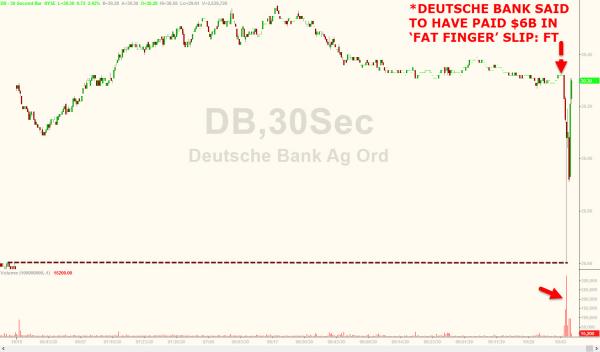 The good news is that while "fat fingers" like that are "surprisingly common", DB's tens of trillions in gross derivatives are in sure hands.