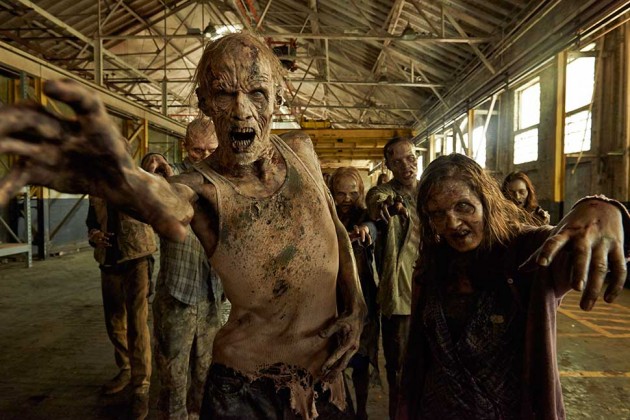 Photograph by Frank Ockenfels 3/AMC
The Walking Dead
The Walking Dead is a true zombie show: Nearly every viewer becomes infected with the gruesome drama and, in turn, passes the infection to others. It helps that AMC Networks (AMCX) has sent Walking Dead episodes to plod slowly through binge-watching territories such as Netflix (NFLX).
Life, as the saying goes, imitates post-apocalyptic art.
Consider Sunday's season premiere, the start of the fifth season of Walking Dead. Nielsen says 17.3 million households tuned into the episode, more than 1 million more than the show's previous peak, reached at last season's debut installment. What's more, about 11 million of the viewers on Sunday were in the 18-49 age range that so excites advertisers. In that demographic, almost 1 in 10 households with a TV watched the zombie series.
By some measures, Walking Dead has been the most watched show in cable-TV history for two years. It's only getting more popular.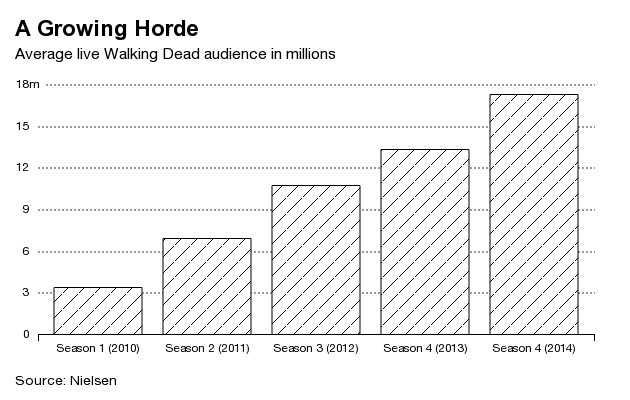 Somewhat ironically, however, AMC probably owes a debt to cord-cutting viewers. The company acknowledges that online video services have cultivated legions of new fans, many of whom don't pay for cable TV and follow the zombie action on Netflix or iTunes (AAPL). The longer a series runs, the more people hear about it and tune in to binge on old episodes. Once they catch up, they can sync into broadcasts of new episodes (if they still have cable) or find alternate means to watch.
That kind of multiplier-effect is one of the reasons AMC cut a multiyear licensing agreement with Netflix in late 2011. "You do tend to see this phenomenon of the opportunity for growth in subsequent seasons," AMC Chief Executive Officer Josh Sapan said at a Bank of America conference last month. "There's been a symbiosis."
The viewing momentum, meanwhile, is making it much more difficult for TV executives to kill off shows. Even if initial ratings aren't great, waves of viewers might eventually tune in if old episodes can lure viewers on Netflix. "It really is an indication or requirement for greater patience," Sapan said of latecoming viewers. "And that's interesting, because of course, you never know if the patience will pay off."
Most recently, AMC gave the green light to second seasons of Turn, a spy show set during the Revolutionary War, and Halt and Catch Fire, a drama about the early days of the personal computer revolution. Neither offering won many viewers in its initial runs: Turn averaged 1.4 million live viewers, while Halt garnered about 760,000 households per episode.
But critics seem to like both shows and ratings have in some ways become less important than reviews. Sapan says aggregators such as Metacritic have been remarkably accurate at picking eventual winners.
Turn has a not-awful rating of 61 out of 100 on Metacritic; Halt scores slightly better at 69. Walking Dead in its first season garnered an 82 percent approval from reviewers tracked by the website. If the Netflix zombies catch on to AMC's fledgling dramas, hordes could show up for season two.