Key Takeaways
A good earnings season is related to beating expectations and a skilled investor must anticipate company expectations.
69 percent of companies in the S&P 500 that have reported Q2 earnings, beat estimates.
Sectors with positive earnings growth include Consumer Discretionary, Telecom services, Utilities and Health Care.
You can easily add to your knowledge as an investor by paying close attention to corporate announcements during each earnings season. Earnings announcements typically include mandated disclosures and give insight into a company's performance. Strategic announcements may also be helpful as they may forecast a company's future. After all, many companies are valued based on the present value of their future discounted cash flows. A shift in strategy can result in huge valuation changes.
Frequently a company's stock price may react to earnings announcements, particularly if the company's actual results differ from analysts' consensus estimates.
Below is a list of helpful steps active investors can take during earnings season.
Monitor how far in advance a company announces its earnings date. Longer lead times can mean better results.
Read through consensus estimates and formulate your own opinions. Earnings seasons is about expectations and is relative to historical performance. If a company has a history of beating expectations, but only meets expectations, investors may be disappointed. The opposite may be true if a company has a history of missing expectations but unexpectedly meets expectations, investors might cheer.
Watch for bad news such as one-off amortization charges and inventory write-offs. Sometimes companies can "kitchen sink" their earnings to get all the bad things out of the way to reset expectations lower. Lower expectations mean an easier ability to beat numbers in the future. Market overreactions can provide an opportunity to buy low.
Pay attention to sector results. Analyze how a company's earnings compare to its competitors.
Analyze a company's financial statements and pay attention to the fine print.
Key metrics for Q2 2016
First, how did U.S. companies fare in Q2 2016? As of August 5th, 86 percent of the companies in the S&P 500 had finished reporting quarterly earnings. Sixty-nine percent had earnings per share (EPS) above estimates. That's two percent above the 5-year average of 67 percent.
Thus far, however, the S&P 500's blended year-over-year earnings are negative 3.5 percent (blended refers to the combination of actual results for companies that have reported and the estimates for those that have yet to report). First quarter was -6.7 percent and Q3 is estimated to be -1.7 percent.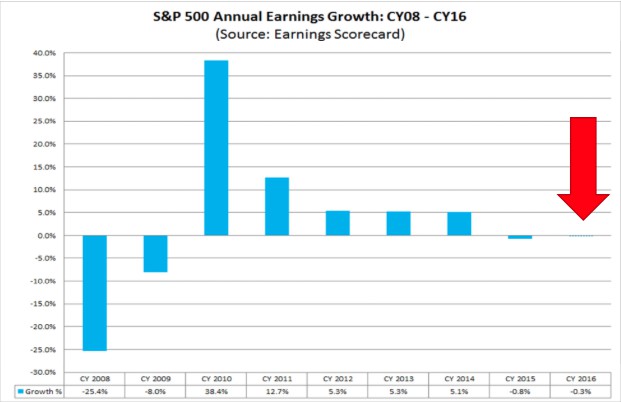 The trouble, however, isn't brewing across every sector. Four sectors had positive earnings growth in Q2 and are leading CY 2016 earnings growth: Consumer discretionary, Telecom services, Utilities and Health Care.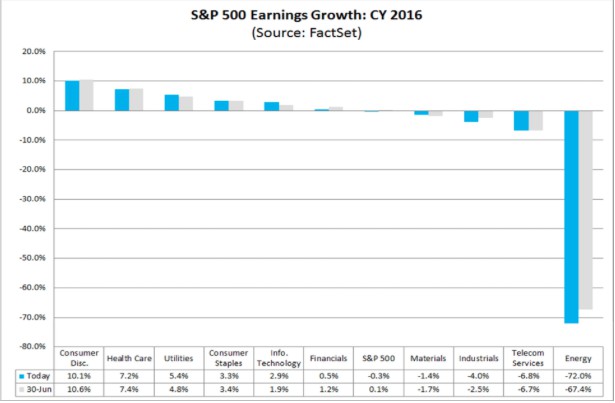 © 2016 Benzinga.com. Benzinga does not provide investment advice. All rights reserved.