The EUR/USD has been choppy.
EUR/USD 4H Chart 4/8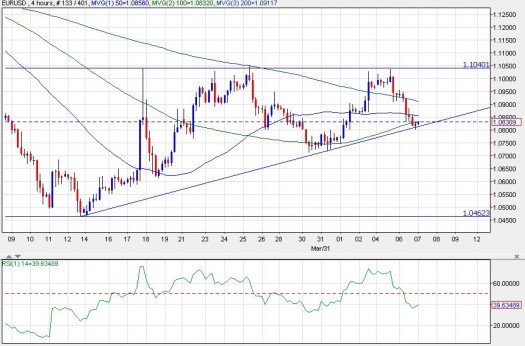 (click to enlarge)

Here is the backdrop since March:
1) Euro is bearish in general due to the ECB's QE measures. The euro should be bearish vs. the US dollar in the medium-term because the FOMC is looking to raise rates this year. The divergence of monetary policy path over the next year is the main reason why EUR/USD fell to 1.0462 in March, and will probably test this level again in the medium-term (over the next month or so). 
2) In the second half of March and early April, we had 2 key fundamental factors out of the US. The first was a FOMC statement that did not show a bank gearing up for a rate hike mid-year. There are growing doubts regarding whether the US economy is as strong as the Fed saw at the beginning of the year. Then, last Friday, we got the US NFP jobs report, which showed a disappointing print for March. The fact that the FOMC is anchoring its plans to raise rates on a positive trajectory of labor market improvements means that the chances of a mid-year rate hike is even more remote after the jobs report. The USD has stalled its bullish mode in the past 2-3 weeks. 
EUR/USD's price action shows that traders are uncertain. The 4H chart shows an ascending triangle with resistance in the 1.1040-1.1050 area. During the 4/7 session, price retreated from resistance down to about 1.08. It is pausing now as we transition into the 4/8 Asian session, respecting the ascending triangle's support.
A break below 1.08 could signal bearish outlook at least in the short-term with the 1.0462 back in sight. This outlook strengthens if a subsequent pullback fails to break back above 1.09.
Now, if price pushes above 1.1050, we are looking at the daily chart for next resistance/targets.
EUR/USD Daily Chart 4/8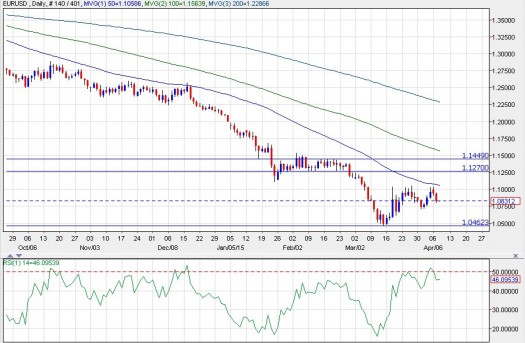 (click to enlarge)
In the daily chart we can see that above 1.1050, 1.1270 is a key support/resistance pivot. We mentioned that the fundamentals suggest EUR/USD should remain bearish in the medium-term, so the short-term bullish outlook should be limited to 1.13, or at most the 1.1450 common resistance pivot (and also support in mid-January.