EUR/USD has been in a consolidation range since 2015. Price is visiting the range support area for the 3rd time since it has been established.

EUR/USD Weekly Chart 12/2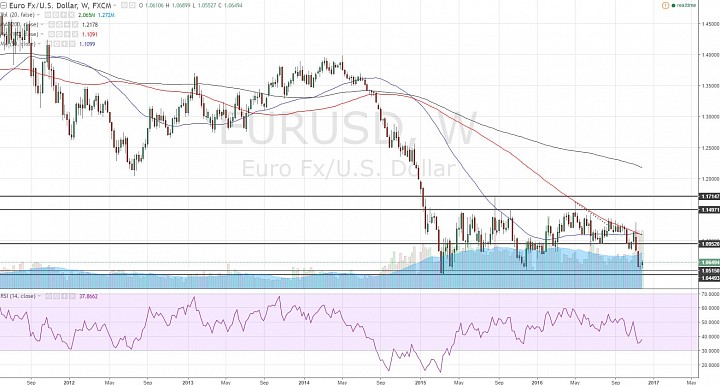 (click to enlarge)

Support at Range Support:
- As we can see on the weekly chart, as price tagged 1.0515 for the third time since 2015, the market bought the EUR/USD.
- Price action has stalled in the past couple of weeks, holding above 1.5 ,and rebounding above 1.0650 this week, but still holding under 1.07 so far. 

Not Expecting Much from Support:
- Other than "scalping" for a rebound, I don't think a bullish outlook risk-worthy. 
- First of all, the prevailing trend entering the consolidation range was bearish.
- In fact, note that the weekly RSI is still holding under 60, which shows maintenance of the bearish momentum. 
- Price is also under the 200-, 100-, and 50-week simple moving averages. 
- Essentially, we are in a neutral-bearish market. In this mode, I would not anticipate a rebound of price to revisit the range resistance. 
- This is because with the bearish mode still intact, there is a possibility that price will break below the range support going down to 1.0450. 
- For me, my bullish outlook from a rebound would be the 1.08-1.0830 area, which involves a support pivot area. I am anticipating it to become a resistance pivot area. 
I think if the market gets back on the FOMC rate hike bandwagon, we can see EUR/USD break the consolidation support at 1.0450 and open up parity - 1.00.