Silver has been strong lately, coming off a bottom seen in the daily chart, breaking above the 200-day SMA for the first time in about a year.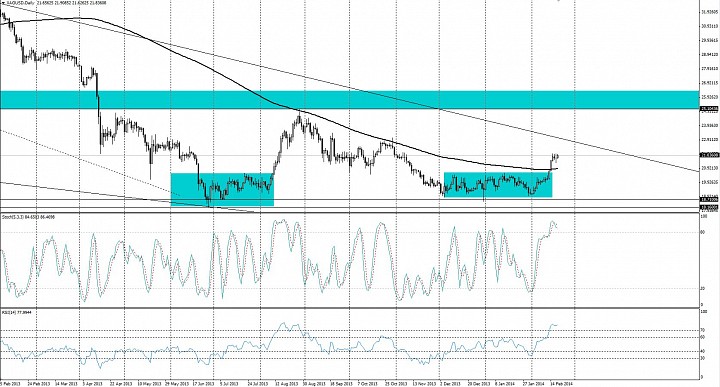 (Silver (XAG/USD) daily chart: click to enlarge)
You can see that the current bottom was near a previous bottom, so if the rally extends, silver will develop a double bottom.
When you look at the weekly chart, you can see that the rally is coming up against a falling wedge, but how much respect should we give this projected wedge?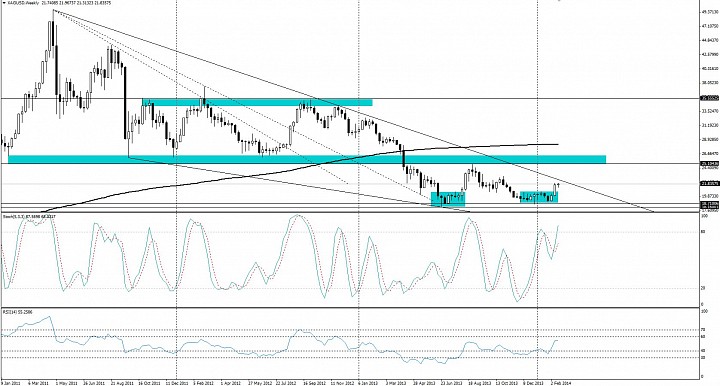 (Silver weekly chart: click to enlarge)
Yea there's a wedge and double bottom, but more importantly...
It appears that levels 35.55, 25.10-25.50 and 18.15-18.70 are key pivot areas, highlighted in aqua on the weekly chart. Perhaps these are more significant factors to look at than the projected falling resistance. Last time, we had a  "double bottom" it turned into a "triple bottom", but was resolved as a consolidation before the downtrend extended. That case and many others like this seen in various time-frames in various markets, should warn us not to be too eager to jump on a premature double bottom. 
Bearish:
In fact, if you respect silvers declining price action since 2011, the 22 handle (near the falling wedge resistance) and then the 25 handle (near the previous hihgh) are places to consider a sell. 
Breakout:
A break above 25.10 however would a major break of the falling price pattern at which point the market can be considered neutral to bullish. At the moment, it is at best neutral, but most likely still bearish.
Tapering:
From a fundamental perspective, Fed tapering should help the USD and thus soften gold and silver. Going along with prevailing price action and fundamental bias, I rather stay on the bearish side in the medium term, but can see a bullish attempt in the short-term developing.