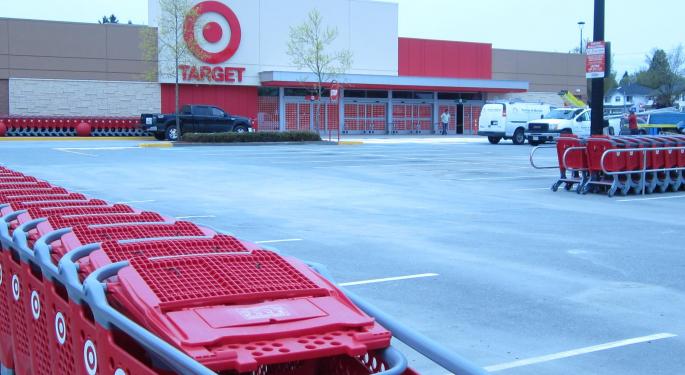 Target Corporation TGT 0.66%'s holiday cheer is abounding, as the discount retailer announced via a Business Wire release that holiday shopping season has gotten off to a strong start.
The company noted that guests started shopping early Wednesday morning with its pre-sale on Target.com. Target touted a new feature this year, which allowed guests to benefit from pre-sale deals in stories via Cartwheel.
On Thursday, guests gained access to all Black Friday doorbuster deals on
Ahead of the Cyber Monday, which usually boasts huge online sales, Target.com saw record traffic and sales, which left behind the statistics of the previous year's Cyber Monday performance. Electronic items led from the front, the firm noted.
Confirming the mobile's emergence as a shopping medium, the company noted that shopping via mobile accounted for roughly 60 percent of its online sales.
Now To The Hot-Selling Items
TVs took the cake, with over 3,200 TVs sold every minute in the first hour of the store opening.
Presto! Within the first half of store opening, half a million video games flew off its shelves. Microsoft Corporation MSFT 0.02%'s Xbox One S and Sony Corp (ADR) SNE 1.93% Play Station 4 were highly sought after.
Seeing a ten-fold increase in sales were robotic vacuums, including Hoover Quest 700 Robotic Vacuum.
Families out for apparel and accessory shopping could do well to watch out. Target is luring customers with a 30 percent offer on items for the entire family and an additional 15 percent off in stores using cartwheel on Friday and Saturday. This comes as a part of the "10 Days of Deals" offer. Decorations could turn appealing on Sunday, when guests can get big discounts on this category.
Every item bought on Target.com on Sunday and Monday gets a 15 percent off, with the offer going live early Sunday morning.
Shoppers, be ready to loosen your purse strings. Target is indulging you with never-before offers, which look tough to beat or pass up on.
In pre-market trading, shares of Target were up 0.85 percent at $78.48.
Image Credit: By Kristiantiholov (internet) [GFDL or CC BY-SA 3.0], via Wikimedia Commons
© 2016 Benzinga.com. Benzinga does not provide investment advice. All rights reserved.