A devastating result of a drug trial from Brystol-Myers (BMY) sent the stock plunging on August 5. Since then, negative sentiment lingered on the stock. At its current levels, the pharmaceutical manufacturer is hardly a value play. The stock trades at a 33x P/E and a forward P/E of 18.6 times. Investors should ask not only if the market will forgive the company's miss, but when that will happen.
Brysto-Myers' Phase 3 trial investigated Opdivo as a therapy for various patients suffering from non-small cell lung cancer. The company reported CheckMate -026 "did not meet its primary endpoint of progression-free survival in patients with previously untreated advanced non-small cell lung cancer (NSCLC) whose tumors expressed PD-L1 at ≥ 5%."
On TickerTags, the frequency of mentions for "opdivo" jumped on the day BMY's stock plunged: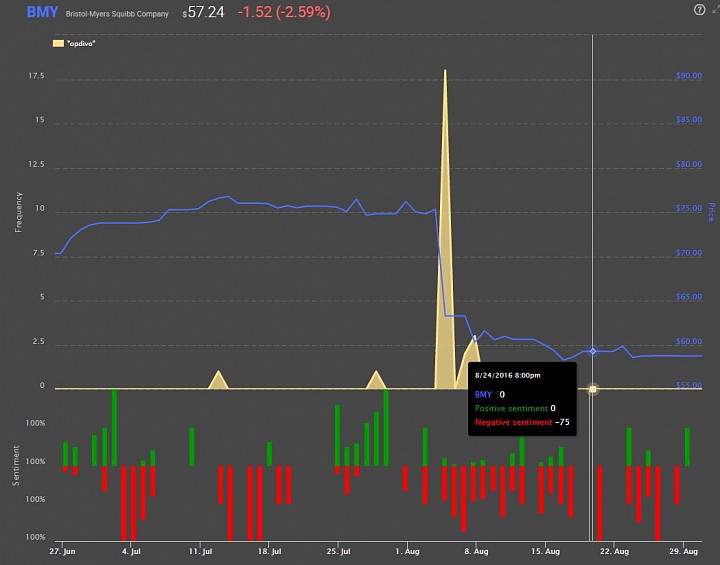 Source: www.TickerTags.com
Even before the announcement, negative sentiment on the internet was more frequent than the positive days. After the news, the mentions for the drug stayed negative.
Value investors need not rush to buy BMY stock. Though it offers a 2.7 percent dividend yield and is hovering near a yearly low, BMY lacks any catalyst that would reverse the stock's drop. Opdivo is a PD-1 immune checkpoint inhibitor that received regulatory approval in July 2014. It has approval in 54 countries.
Brystol-Myers is not getting pulled down from the controversy over drug pricing. The positive correlation between drug + pricing is clearly negative for pharmaceutical companies: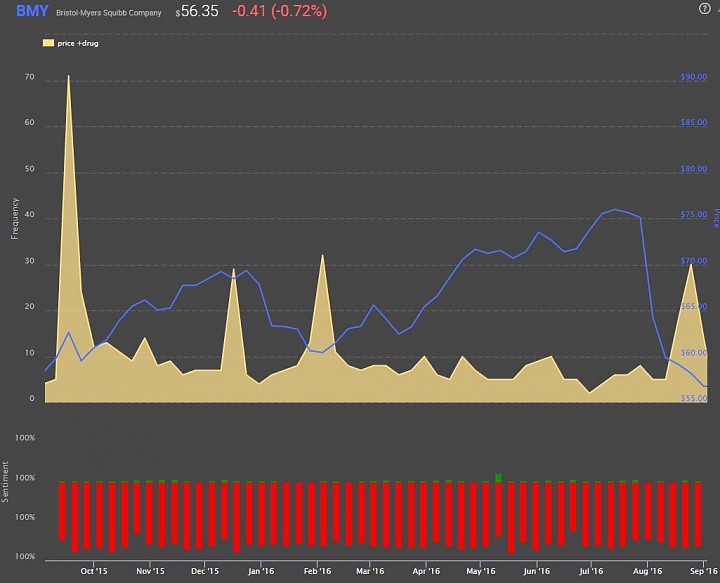 Source: Source: www.TickerTags.com
Takeaway
Avoid BMY's stock for now. The stock will underperform for a while longer. A recovery is not imminent.  Investors have better opportunities with companies reporting positive clinical study results.