The most entertaining overnight story has to do with the latest farcical development in the Chinese "market" when just after open, it was reported that PBOC Governor Zhou said a trading link with Shenzhen will start this year which promptly sent all Chinese brokerages soaring, and the Shanghai Composite jumped over 3%. And then, out of the blue, the PBOC said the undated comments were actually as of May. As Bloomberg put it, "China's central bank unintentionally sparked a surge in the nation's stock market by publishing five-month-old comments from governor Zhou Xiaochuan that said a link between exchanges in Shenzhen and Hong Kong would start in 2015."
Zhou's comments appeared in a lengthy article dated Tuesday that focused on the need for Communist Party discipline. It was published on the PBOC's website without any indication that the statements were old. The central bank later said via text message that the comments were taken from a speech on May 27, while Hong Kong's bourse said the link is still subject to regulatory approval. The clarifications came after a 3.3 percent surge in the Shenzhen Composite Index and a 3.1 percent gain in Hong Kong's Hang Seng Index in early trading.
AS Bloomberg further adds, the PBOC article moved markets because it came as a surprise to many investors who had anticipated the link would be delayed after a $5 trillion rout in Chinese shares. As a result of the non-news, everything jumped, and while there was some retracing in stock prices after the PBOC correction...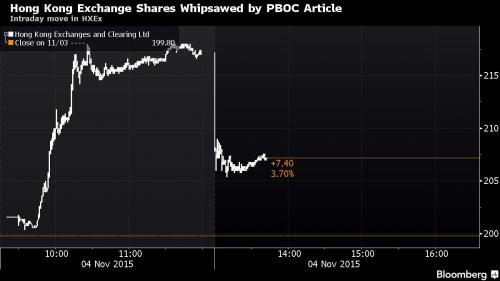 ... soon thereafter the refutation was forgotten and only the original non-news remained, allowing the PBOC to achieve its mission of sparking a marketwide ramp on a 5-month-old statement, with all the brokerages closing limit up (Pacific Sec +10%, Citic Sec +10%, Haitong Sec +10%, Guotai Junan +10%, Shenwan Hongyuan +10%), even as the Composite closed at its highs, up 4.3% on the day.
The other main event in Asia was the IPO of Japan Post which soared after going public in a $12 billion, three part deal which also included its banking and insurance divisions, making it the biggest IPO of 2015 and the largest since Alibaba's $25 deal in 2014. It was also the Japanese government's largest asset sale in nearly three decades.
Japan Post Holdings opened at 1,631 yen per share, 16.5% above the IPO price of 1,400 yen. The banking unit started at 1,680 yen, up almost 16% from its IPO price, while the insurance unit was 33% higher.
Shares in the parent company Japan Post Holdings closed up 20%; shares of Japan Post Bank closed up 15% while Japan Post Insurance soared 56%.
Angus Nicholson, market analyst at trading firm IG, said the "blockbuster" IPO was helping to drive the rally in Japanese markets as they returned from a holiday on Tuesday. And indeed, the euphoria surrounding the issue also helped push both the USDJPY higher, and closed the Nikkei up some 1.3%.
The Japanese government plans to raise a total of 4tn yen in additional asset sales in the coming years. It has said the funds will be used to help reconstruct areas hit by the 2011 earthquake and tsunami disaster.
Other Asian headline news:
China's Latest Bond Scare Burns Holdouts as Default Risks Spread: Hidili has said it can't pay $190.6m due Wednesday.
Historic China-Taiwan Meeting Shakes Up Island's President Race:: Leaders of China and Taiwan plan to meet Saturday for the first time since their civil war seven decades ago.
Rajan Sees Rupee as Investment Currency; Dollar Debt Curbed: Monetary policy 'just right' to reach 2017 inflation target.
Standard Chartered's Bad Loans Show Cracks in Asia Economies: Bank had gambled on success in emerging markets such as India, which instead saddled the lender with delinquent loans.
Moving to Europe, recently infamous heavyweight Volkswagen (-8.5%) is once again the notable underperformer as the emissions scandal is further fuelled by recent reports suggesting that it was not only diesel engines which have been implicated. As such, the carmaker has gone on to weigh on the DAX (-0.2%), which is the laggard compared to other major European indices (Euro Stoxx +0.7%). Separately, energy and material names are the best performing sectors today as yesterday's API inventories showed a lower than previous build 2800K (Prey. 4100K), while materials trade in the green after Glencore (+5.4%) reported they are to increase the planned cuts to copper production and reiterated their FY forecast.
We also got European Service PMI data, which came in better than expected in Spain 55.9, exp. 55.4, (last 55.1), France 52.6, exp. 52.3 (last 52.3), while it disappointed in Italy 53.4, exp. 53.5 (last 52.3), and Germany at 54.2, exp. 55.2 (last 55.2). The combinedf Euro-area composite PMI rose to 53.9 from 53.6, slightly missing expectations; U.K. services rose to 54.9 from 53.3, better than forecast.
Fixed income markets see Bunds in modest positive territory, aided by small real money buying, while the 5s/30s German curve is close to its September high at 146bps. Portuguese bonds are currently outperforming their EU counterparts with the PO/GE spread tighter after PM Coehlo has said he would be willing to lead a caretaker govt, a step that is seen as a measure of stability for Portuguese politics. Finally of note, for USD swaps, the curve is seen flatter after a deal hedge position, with November expected to see plenty of issuance as treasurers look to close off all funding ahead of a potential Fed lift off in December.
Despite the latest Volkswagen snafu, European stocks gain for third day to highest since late Aug. after ECB President Draghi's comments last night reiterated commitment to euro-area recovery, with Norwegian, Swiss bourses outperforming. "The degree of monetary policy accommodation will need to be re-examined at the Governing Council's December meeting," Draghi said at in Frankfurt last night; "The Governing Council is willing and able to act by using all the instruments available within its mandate if warranted in order to maintain an appropriate degree of monetary accommodation."
As a result, 18 out of 19 Stoxx 600 sectors rise with basic resources, oil & gas outperforming and autos underperforming with 72% of Stoxx 600 members gain, 26% decline.
Other European key news:
VW Scandal Deepens as Emissions Woes Spread to Gasoline Cars: Co. says internal probe showed 800,000 gasoline- powered cars had "unexplained inconsistencies" concerning their carbon-dioxide output.
Bank of England Will Raise Key Rate in Early 2016, Niesr Says: BoE will probably raise its benchmark interest rate in Feb., according to National Institute for Economic and Social Research.
Merkel's Coalition Will Survive Refugee Turmoil, Ally Says: Asked whether Merkel's govt could collapse, Deputy Foreign Minister Michael Roth said: "No, not at all."
Iceland Raises Rates as It Moves Closer to Capital Controls Exit: 7-day term deposits rate was raised to 5.75% from 5.5%.
Lonmin May 'Cease Trading' If $400 Million Share Sale Fails: World's third-largest platinum miner said shareholders risk losses if they block a $770m refinancing plan that includes sale of shares.
In FX markets, the EUR underperformed both USD and GBP after further dovish comments from ECB's Draghi overnight , suggesting that the degree of accommodation within monetary policy required will need to be re-examined at the December meeting and is willing to act if necessary. However losses were capped by generally better than expected services and composite PMIs from across Europe, although the German and Eurozone readings both missed on expectations. GBP did see modest strength on the back of the UK release of services and composite PMIs (Services PMI 54.9 vs. Exp. 54.5) however is still relatively unchanged on the day against the USD..
The commodity complex heads into the North American crossover relatively flat, with WTI and Brent having seen strength after API crude inventories (W/W 2800K Prey. 4100K) showing a smaller build than the previous week . Looking ahead, today sees the DoE crude oil inventories, which are expected to show a build of 2500k (Prey. 3376k). The metals complex has seen copper outperform after reports from Glencore that they are going to cut production of the metal by a further 55,000, for a total cut of 455,000 by the end of 2017.
And now we look forward to the main even in th US market, where in addition to notable US earnings including Facebook, Allergan and Time Warner,  as well as US ADP employment change, services and composite PMIs and ISM Non-manufacturing composite, the most important thing everyone will be watching is the deluge of Fed commentators which include the Fed's Brainard, Harker, Dudley, Lockhart, Fischer while Janet Yellen herself will address Congress this morning on bank regulatory matters.
In short, prepares for a deluge of Fed speakers to prepare the equity, and the Fed Fund futures markets, for a December rate hike now that the Fed again has a green light to hike rates with the S&P is back at its all time highs. Here is the schedule:
5:30am: Fed's Brainard speaks in Frankfurt
8:00am: Fed's Harker speaks in Philadelphia
10:00am: Fed's Yellen testifies before House Financial Services Committee
2:30pm: Fed's Dudley speaks in New York
7:30pm: Fed's Fischer speaks in Washington
Market Wrap:
    S&P 500 futures up 0.1% to 2105
    Stoxx 600 up 0.8% to 382
    MSCI Asia Pacific up 1.1% to 135
    US 10-yr yield up less than 1bp to 2.21%
    Dollar Index up 0.29% to 97.44
    WTI Crude futures up 0.2% to $47.99
    Brent Futures up 0.2% to $50.66
    Gold spot up less than 0.1% to $1,118
    Silver spot up less than 0.1% to $15.29
Top Overnight News:
Tesla's 'Aspiration' to Have Positive FCF in 1Q 2016: Sees production rate of "several hundred" Model X per week by next month.
PBOC Inadvertently Boosts China Stocks With Dated Zhou Comments: 2015 target for Shenzhen-Hong Kong link surprises investors.
Japan Post Bank May Shift Some Investment Funds to Stocks: Stock listed Wednesday after three-pronged $12b IPO.
Takata to Pay Up to Record $200 Million Over Faulty Air- Bags: Under 5-year consent decree with NHTSA, co. agreed to pay $70m, plus up to $130m more in fines if it doesn't adhere to settlement terms.
San Francisco Voters Reject Ballot Measure to Curb AirbnbP: Measure would have imposed 75-day/yr limit on Airbnb rentals, forcing hosts to register with city; its was losing 55% to 45% with all precincts reporting.
Ohio Voters Reject Legalizing Pot Controlled by Investors
Druckenmiller Says He's Short the Euro, Stocks Could Be Next: Says Draghi has "pretty much pre-announced step two," signaling either further discount rate cut, more quantitative easing or both.
Bulletin Headline Summary from RanSquawk and Bloomberg
European heavyweight Volkswagen (-8.3%) is once again the notable underperformer as the emissions scandal is further fuelled by recent reports suggesting that it was not only diesel engines which have been implicated
FX markets have seen EUR underperform both USD and GBP after further dovish comments from ECB's Draghi overnight
Looking ahead, notable highlights include the US ADP employment change, services and composite PMIs and ISM Non-manufacturing composite as well as a number of FED and ECB speakers and earnings from Facebook and Allergan
Treasuries little changed as stocks, crude oil and copper gain; today brings ADP for first look at October employment (est. 180k) and $26b 2Y sale. WI 0.79%, highest since 2010, vs 0.699% last month.
At 8:30am ET, U.S. to announce plans for Quarterly Refunding auctions of 3Y/10Y notes, 30Y bonds (See Treasury link)
Volkswagen said late Tuesday that an internal probe showed 800,000 cars had "unexplained inconsistencies" concerning their output of CO2, with affected vehicles include gas- powered models for the first time
Euro-area composite PMI rose to 53.9 from 53.6, below expectations; U.K. services rose to 54.9 from 53.3, better than forecast
Standard Chartered Plc became the third European bank in less than two weeks to announce sweeping job cuts, bringing the total planned reductions to more than 30,000, or almost one in seven positions
Less than three months after its sudden yuan devaluation roiled global markets, the PBOC sowed confusion among stock traders by presenting five-month-old comments from governor Zhou Xiaochuan as if they were fresh in an article on the PBOC's website Tuesday
Stan Druckenmiller, who boasts one of the best investor track records over the past three decades, said he's betting against the euro again and could see himself becoming bearish on stocks
Sovereign 10Y bond yields lower. Asian, European stocks gain; U.S. equity- index futures rise. Crude oil and copper higher, gold little changed
US Event Calendar
7:00am: MBA Mortgage Applications, Oct. 30 (prior -3.5%)
8:15am: ADP Employment Change, Oct., est. 180k (prior 200k)
8:30am: Trade Balance, Sept., est. -$41b (prior -$48.3b)
9:45am: Markit US Composite PMI, Oct. final (prior 54.5)
Markit US Services PMI, Oct. final, est. 54.5 (prior 54.4)
10:00am: ISM Non-Mfg, Oct., est. 56.5 (prior 56.9)
Central Banks Speakers
5:30am: Fed's Brainard speaks in Frankfurt
8:00am: Fed's Harker speaks in Philadelphia
10:00am: Fed's Yellen testifies before House Financial Services Committee
2:30pm: Fed's Dudley speaks in New York
7:30pm: Fed's Fischer speaks in Washington
DB's Jim Reid completes the overnight wrap
The last 24 hours or so in markets has largely seen a continuation of the trend that we got for the most part during Monday's session. The positive tone for risk assets extended yesterday with US equities edging closer to their YTD highs. Indeed, despite softening into the close, the S&P 500 finished +0.27% after energy stocks again led the charge following a strong day in Oil markets. The S&P 500 has in fact now rebounded 13% from the August 25th low and is just 1% off the YTD high we reached back in May. European equity markets generally nudged a bit higher despite financials taking a knock following the latest quarterly reports from UBS and Standard Chartered (more on that later). Meanwhile Treasury yields continue to creep up. 10y Treasuries were another 4bps higher at the close yesterday at 2.211% and are now at their highest since September 16th.
The big event this week is Friday's payroll report for which analysts will get a final chance to fine tune their estimates after today's October ADP employment change reading where market expectations are currently sitting at 180k after printing at 200k in September. There's plenty of Fedspeak for us to keep an eye on as well today including Fed Chair Yellen who is due to testify in front of Congress at 3pm London time. While the official topic is on financial regulation, it's possible that we see Congress also pick the Fed Chair's brain on her current economic outlook in what will be her first public comments since last week's FOMC meeting.
Before we get there though, it's been a strong start for bourses in Asia this morning with decent gains across the board. In China the Shanghai Comp has rallied +2.67% while the Shenzhen is +3.52% and supported by the news out of the PBoC that the  much-anticipated Hong Kong-Shenzhen connect is set to be accelerated in a bid to open as soon as this year, although a subsequent release from the PBoC suggests this comment was made earlier this year which is seemingly causing come confusion. In Japan and having reopened from a public holiday yesterday the Nikkei is +1.94% and the Topix is +1.37% while elsewhere this morning, the Hang Seng is +2.38% and ASX +0.10%. Asia credit is around 5bps tighter, while Aus credit is 3.5bps tighter.
Meanwhile, there's been more data out of China this morning. The non-official services PMI for October has come in at 52.0 which is up 1.5pts from September and the best reading since July. That's also helped lift the composite PMI up 1.9pts to 49.9. Staying in China, there's also a story doing the rounds on Bloomberg this morning of another potential Chinese corporate default on the horizon. The article suggests that on October 20th Chinese coal miner Hidili Industry and Development said it was unable be repay $191m of bond interest and principal that was due. One to keep an eye on.
Yesterday evening, ECB President Mario Draghi did little to move the dial following comments which were largely a repeat of what we heard post the ECB meeting nearly 3 weeks ago. Draghi reiterated that 'the degree of monetary policy accommodation will need to be re-examined at the Governing Council's December meeting' and that the Council is willing and able to act by using all the instruments available within its mandate if warranted in order to maintain an appropriate degree of monetary accommodation. This came after the ECB President warned that even though domestic demand remains resilient, downside risks are being created, affecting the outlook for growth and inflation as a result of concerns over growth prospects in emerging markets and other external factors.
The comments actually came as Oil markets were staging a decent rally yesterday. WTI closed +3.81% and just shy of $48, while Brent finished +2.95% and back above $50 for the first time since October 16th. A couple of factors appeared to help support the leg up in prices. A fall in production out of Libya by as much as 70k barrels a day is expected after a force majeure was declared and the Eastern export terminal of Zueitina blocked. Meanwhile there was also some expectation that we may also see a drop in production out of Brazil according to the WSJ, after the nation's biggest oil-sector union commenced a strike on Sunday.
Moving on, it was a reasonably light day for economic data yesterday. With nothing out in Europe, the main data of note was in the US where we saw factory orders fall during September (-1.0% mom vs. -0.9% expected) more or less in line with expectorations. The November IBD/TIPP economic optimism reading declined 1.8pts and below market to 45.5 (vs. 47.4 expected) but there was better news in the autos sector where total vehicle sales in October rose to 18.1m saar (vs. 17.7m expected) during the month, a second consecutive monthly +18m read. Finally the ISM NY was up a robust 21.3pts to 65.8 (vs. 45.7 expected).
As noted earlier, headlines out of Standard Chartered and UBS attracted plenty of attention yesterday. As part of its restructuring program aimed at shrinking costs, the former announced that it expects to cut up to 15,000 jobs, equivalent to 17% of its workforce. The bank also outlined plans looking at either restructuring or exiting $100bn of assets, while also announcing a sizeable rights issue. Meanwhile UBS, despite reporting some better than expected Q3 earnings yesterday, announced that it expects to take a year longer than expected to reach profitability targets.
Meanwhile VW continues to remain firmly in the spotlight. After we noted yesterday that the scandal looks set to spread to Porsche and Audi, the episode appears to have taken another twist after an internal probe showed that VW also found problems involving carbon dioxide emissions, including petrol-powered vehicles. This latest finding is said to have found 'unexplained inconsistencies' on 800k vehicles according to the automaker.
Before we take a look at the day ahead, quickly recapping the latest from earnings season yesterday saw 27 S&P 500 companies report their latest quarterly numbers, with 16 (59%) beating earnings expectations, but just 8 (30%) above revenue expectations. That was a lot softer than the overall trend so far and with nearly 80% of the S&P 500 now having reported (388 companies), 73% having beaten earnings expectations and 44% revenue expectations, down from 74% and 45% respectively this time yesterday.
In terms of the day ahead, data-wise in Europe it'll be all eyes on the final October services and composite PMI readings for the Euro area, Germany and France. We'll also get readings for the UK and Italy while Euro area PPI data is also expected. Over in the US this afternoon the main data of note will be the October ADP employment change reading ahead of Friday's payrolls, while the October non-manufacturing ISM reading will also be closely watched with markets expectations for a 0.4pt fall to 56.5. The full September trade report is also due, while the final October PMI's are also scheduled to be released. It's a busy day for Fedspeak also. Fed Chair Yellen is set to address Congress at around 3pm GMT on bank regulatory matters, while Brainard (at 10am GMT) is speaking on financial stability and Dudley (7.30pm) speaking on income inequality. Earnings wise we've got 26 S&P 500 companies due to report, headlined by Facebook. 18 Stoxx 600 companies are due to report also.