Perth Mint's Gold Coins and Bars Sales Highest In Year On Safe Haven Demand

The Perth Mint's sales of gold coins and bars hit their highest in nearly a year in September as a fall in U.S. dollar denominated gold led to some buyers to accumulate bullion on the dip and the risks of terrorism and war led to safe haven demand.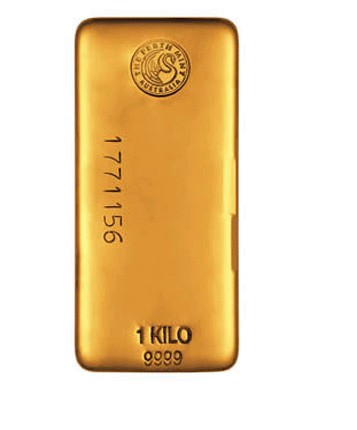 Perth Mint Gold Bar (1 Kilo)

Concerns about the global financial system and economy are also leading to safe haven demand.

The Perth Mint runs the only gold refinery in Australia, the world's second-biggest gold producer after China.

Sales of gold coins and minted bars rose to 68,781 ounces in September, their highest since October 2013, data available on the mint's website showed.

Gold prices fell 6% in September, despite strong seasonality and increasing financial risks and concerns that geopolitical tensions may impact the global economy.

Silver coin sales totalled 756,839 ounces last month,compared with 961,977.07 ounces in the same period last year.  Yet silver had a far greater price fall than gold.

This shows that the gold bullion buying was not solely people bargain hunting. Rather, gold demand was due to safe haven demand due to the increasing risk of terrorism and war in the Middle East and between the West and EU and Russia.

This risk remains and therefore the increased demand is not likely to be a mere blip on price weakness.
We strongly advise owning allocated and segregated individual bullion coins and bars stored in the safest vaults in the safest jurisdictions in the world.
MARKET UPDATE
Today's AM fix was USD 1,214.50, EUR 960.99 and GBP 750.94 per ounce.
Yesterday's AM fix was USD 1,208.50, EUR 958.75 and GBP 746.17 per ounce.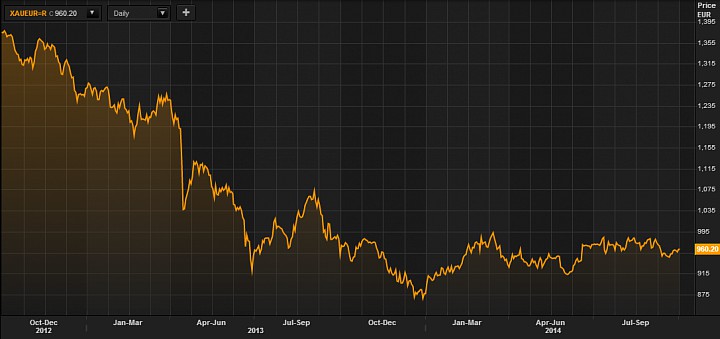 Gold in Euros - 2 Years (Thomson Reuters)

Gold in Singapore crept higher from  $1,215 per ounce to over $1,220 per ounce prior to weakness in early morning trade in London.

Gold climbed $5.60 or 0.46% to $1,214.60 per ounce and silver rose $0.13 or 0.76% to $17.18 per ounce yesterday.

It is important to note that gold's falls continue to be primarily in dollar terms and that gold in euros and pounds has seen only minor falls.

Indeed, gold in euros remains nearly 10% higher for the year and has risen from €876 per ounce to over €960 per ounce today.

Gold rose on Wednesday, rebounding from the end of quarter nine-month low near $1,200 an ounce, as concerns about the emergence of Ebola in the U.S. and disappointing U.S. factory data sparked a selloff on Wall Street which led investors to move funds into safe haven gold.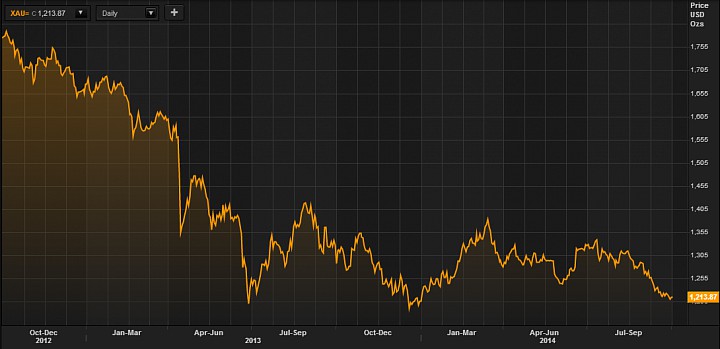 Gold in US Dollars - 2 Years (Thomson Reuters)

Also underpinning bullion was a weaker U.S. dollar and sharp falls in global stocks on concerns of a new global financial crisis. Sharply lower airlines and transport-related shares after the first diagnosis of Ebola in the United States also helped send the S&P 500 index down more than 1%.

Nouriel Roubini warned that the world is vulnerable to a new global financial crisis and markets are very complacent again.

While geopolitical risks have multiplied, global markets have "remained buoyant, if not downright bubbly," said economist Nouriel Roubini in a column published Tuesday.
The global economy could be stuck in a weak growth rut for a long time as countries struggle to pull free from high debt levels and unemployment, the head of the International Monetary Fund warned today.
The economic rebound is even weaker than the IMF predicted six months ago, and countries risk getting stuck in a prolonged period of sluggish growth, especially in the euro zone, Christine Lagarde, the IMF's managing director, said.
The warning is belated and the IMF and manhy have ignored many signs that the economic recovery was tentative at best.
For undiversified investors who have piled into stocks and property, the belated warnings may be too late.
It remains a very good time to diversify with the price of gold near multi year lows and under valued & stocks, bonds & property looking very toppy. It is very reminiscent of 2005-2007 period.
Fail to diversify, prepare to fail ...

See 7 Key Storage Must Haves

Breaking News and Updates Here