Goodyear Tire and Rubber Co. (GT) has been making a strong comeback in recent years.Since falling below 10 in 2011, it has rebounded from just under 9.0 back to almost 34.00 last week. Here's an article from a fellow blogger:

Goodyear : Good Years Ahead

Hinging on a bullish bias that is already exhibited by the weekly chart, we can plan for a buy-on-a-dip play in the coming weeks, or even months. Its a long-term play.
Goodyear (GT) Weekly Chart 11/11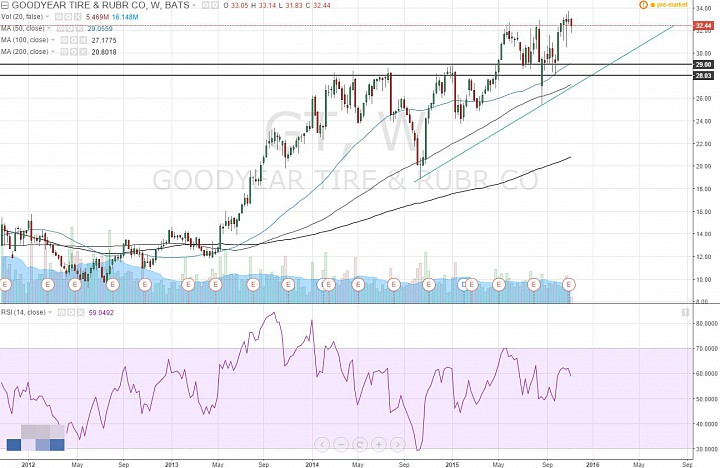 (click to enlarge)

The weekly chart does shows a bullish market especially after a break above 29.00 earlier in the year. However, the current bearish divergence between price and the RSI suggests there might be a period of consolidation ahead. That opens up some downside risk in the short to medium-term.

In the next few weeks, let's see if price will retreat towards 30. The 28-29 area is an ideal spot to anticipate support. This contains a previous support and resistance pivot area, the 50-week simple moving average, and a rising trendline from late 2014. Taking a look at the monthly chart, we can see that there is still upside risk towards a key resistance around 36.60. Then, if price breaks above 37, we would have a completed price bottom, a double bottom if you feel the need to categorize.

Goodyear (GT) Monthly Chart 11/11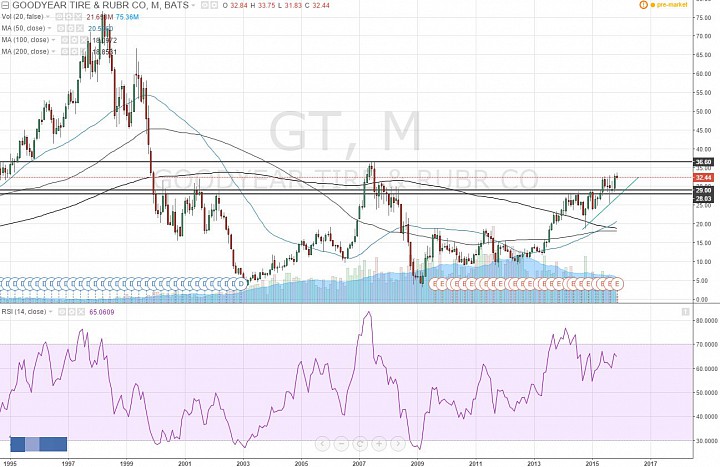 (click to enlarge)
You can see that the subsequent bullish outlook will be medium to long-term, with at least the 45-50 area in sight, with the 65 and 75 highs also in play for the long-term play. For the long-term plan, we have to anticipate probability of price coming back to test the large price bottom that has held price under 36.60 for over 15 years .