Trade with confidence. Are you a professional trader? Be the first to get the alert with Benzinga Pro's real-time newsfeed and audio squawk and never miss an opportunity again.
Don't miss the chance to try it FREE today.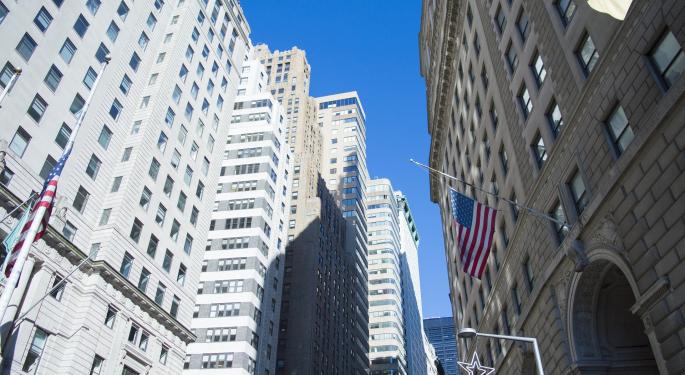 Below is a tool used by the Benzinga News Desk each trading day -- it's a look at everything happening in the market, in five minutes. Apply for daily AM access by clicking here or email minutes@benzinga.com.
Macro Focus
Crude oil prices hit 2016 highs on Tuesday on the back of a rally in the gasoline market and after an industry group reported a surprise draw in U.S. crude stockpiles. Brent and U.S. crude's WTI futures finished regular trading about 3 percent higher, riding on the coattails of a gasoline rally that hit August highs after a series of refinery hikes.
Iran's Supreme Leader accused the United States of scaring businesses away from Tehran and undermining a deal to lift international sanctions. Ayatollah Ali Khamenei told hundreds of workers that a global deal, signed between Iran and world powers, had lifted financial sanctions, but U.S. obstruction was stopping Iran getting the full economic fruits of the agreement.
Donald Trump swept the Republican primaries in five East Coast states on Tuesday, while Hillary Clinton won in Pennsylvania, Maryland, Connecticut and Delaware, dropping only Rhode Island to Bernie Sanders.
BZ News Desk Focus
Apple AAPL 7.14% reported Q2 earnings of $1.90 per share on sales of $50.56 billion. Estimates called for EPS of $2.00 and sales of $51.97 billion. This was the first year-over-year sales decline for the tech giant since 2003. iPhone sales came out at 51.2 million, about 1 million above estimates but was the first sales decline in the product's history.
Twitter TWTR 15.58% shares fell 11 percent amid disappointing guidance numbers and a warning of soft advertising spend. Twitter said in its shareholder letter that "[y]ear-over-year revenue growth from large brand advertisers was softer than expected," adding that the category is Twitter's largest contributor to revenue.
The Federal Reserve's FOMC meets this afternoon. Be sure to check Benzinga Pro for real-time updates and commentary from some of the country's top economists.
Sell-Side Themes
https://twitter.com/CalConfidence/status/725300936730615810
were cut on Apple, with Oppenheimer the lone firm to downgrade the stock.
The
https://twitter.com/CalConfidence/status/725301038786461696
for Twitter, although Bank of America and JPMorgan downgraded the stock.
Deutsche Bank initiated coverage on nine specialty retailers.
Sell-Side's Most Noteworthy Calls
Deal Talk
Dreamworks Animation DWA 13.79% soared higher by more than 20 percent after the Wall Street Journal reported the company is being eyed as a potential acquisition target. Citing "people familiar with the matter," WSJ said Comcast CMCSA 1.97% is in talks to acquire the movie studio for more than $3 billion. The publication noted that Comcast's own movie studio, Universal Pictures, has seen recent success in animated films but it remains a "relatively small player."
In September 2015, Energy Transfer Equity LP ETE 4.92% and Williams Companies WMB 2.11% announced a $37.7 billion deal to combine, which priced Williams shares at $43.50. However, a source close to the matter told Benzinga the deal may no longer be happening. This follows issues related to a tax opinion from Energy Transfer lawyers related to the deal, along with questions surrounding the departure of Energy Transfer CFO Jamie Welch and valuation concerns, the source added.
Arianna Huffington once said Uber made her feel like a "genuine Greek goddess." She joined the ride-hailing company's board this morning.
In The News
A Republican candidate running to become North Carolina's attorney general said "we must fight to keep our state straight" while discussing a law that restricts transgender bathroom access and gay rights. The measure has positioned the state at the center of a debate over equality, privacy and religious freedom as states propose legislation seen as discriminatory against gay and transgender people.
Lawyers suing members Led Zeppelin say their client is willing to settle a lawsuit over the band's most famous song--a claim potentially worth millions of dollars -- for just $1. The catch is that band members Robert Plant and Jimmy Page would have to give dead rocker Randy California a writing credit on the iconic 1971 rock ballad Stairway to Heaven.
Billionaires Dan Gilbert and Tom Gores are partnering to bring a Major League Soccer club to downtown Detroit. They will also build a soccer-specific stadium to the city. In a press release, Gilbert (owner of the NBA's Cleveland Cavaliers) and Gores (owner of the NBA's Detroit Pistons) said the ownership group's efforts are supported by MLS and its commissioner Don Garber, who recently announced plans to grow the league to 28 teams and identified Detroit as market of great interest.
Buy-Side
Dan Loeb says we just saw "one of the most catastrophic periods" for hedge funds in decades: "Unfortunately, many managers lost sight of the fact that low net does not mean low risk and so, when positioning reversed, market neutral became a hedge fund killing field."
Blogosphere
Adidas "sneaking up" on Nike NKE 0.71%? "Given that Adidas is becoming known as much for its presence on the catwalk (it collaborates with Kanye West) as on the sports field, it needs to behave more like a fast-fashion retailer," writes Gadfly's Andrea Felstead.
With "Lemonade," as the Internet goes all "Serial" over the identification of "Becky," Beyoncé has proven once again how she can bend both the media and the public to her will, Amy Zimmerman says on The Daily Beast.
ESPN's talent exodus: In the short term, the move for the two companies involved -- Comcast and Disney DIS 0.51% -- may not have any major ramifications on share price, but it certainly may in the long term.
Trending
AAPL TWTR CMG WATT XON ETE BWLD CMCSA FB QQQ BA EBAY UTX X HES BSX [StockTwits]
#FreedomDay is a South African public holiday celebrated on April 27. It celebrates freedom and commemorates the first post-apartheid elections held on that day in 1994. The elections were the first non-racial national elections where everyone of voting age of over 18 from any race group, including foreign citizens permanently resident in South Africa, was allowed to vote.
Quote Of The Day
"Frankly, if Hillary Clinton was a man, she'd only get 5% of the vote. The only thing she's got going for her is the woman's card, and frankly, women don't like her."
Republican-frontrunner Donald Trump, speaking Tuesday night following his primary sweep.
© 2016 Benzinga.com. Benzinga does not provide investment advice. All rights reserved.