Rival chains Whataburger, In-N-Out and Shake Shack keep winning taste tests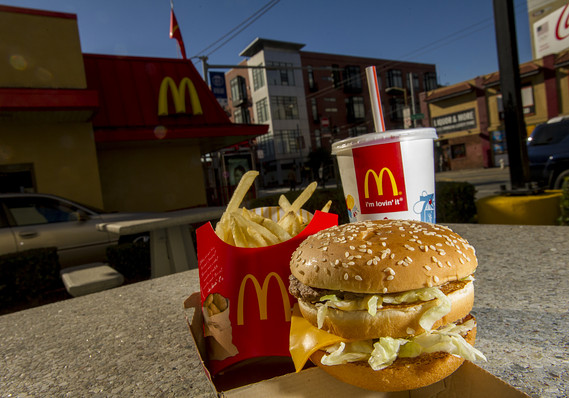 Bloomberg
Happy meal?

From those "scary" Happy Meals to the recurring "pink slime" questions to the cheap shots at vegetarians — neither consumers nor investors are lovin' what's been going on at McDonald's Corp. over the past year.
But winds of change may be blowing. On Wednesday, the company MCD, -0.27% whose shares have dropped from $104 a share last May to around $88 currently, has pulled the plug on the three-year tenure of Chief Executive Officer Don Thompson, who will be replaced on March 1 by Steve Easterbrook. Hopeful investors pushed shares higher Thursday.
Domestic sales for the onetime king of burgers have been falling for two years. A 21% earnings drop in the December quarter, worse than forecast, was paired with a warning on January sales and an expression of caution over a challenging first half of the year. "Our business," CEO Thompson said on Jan. 23, "continues to face meaningful headwinds."
One of those headwinds? Those famed two all-beef patties ... and even, actually, the chain's single-patty options. In July, a Consumer Reports survey named McDonald's burgers the worst in America, ranking two notches below those of archrival Burger King. Fighting back in an increasingly competitive burger marketplace — marked by a rising hunger for options perceived as more gourmet or more upscale — McDonald's introduced "Create Your Taste" in late December and has said it will expand it to 2,000 locations in 2015.
While McDonald's has a lock on global reach — with its billions and billions served — it may have a thing or two to learn about burgers, and the incoming Easterbrook may want to start by sneaking a bite of these five juicy rivals — because, really, the question must be asked: Does anyone buy a Big Mac for the taste?
http://www.marketwatch.com/story/the-five-burgers-that-could...