Juno Therapeutics Inc. JUNO is scheduled to report third-quarter 2017 results on Nov 1, after the market closes. Last quarter, the company delivered a negative earnings surprise of 1.37%.
Year to date, Juno's shares have soared 147.5%, while the industry has recorded a rally of 3.9%.

The company's poor track record so far, shows negative surprises in three of the last four quarters with a positive surprise in one. The average negative earnings surprise for the last four quarters is 0.78%.
Juno Therapeutics, Inc. Price and EPS Surprise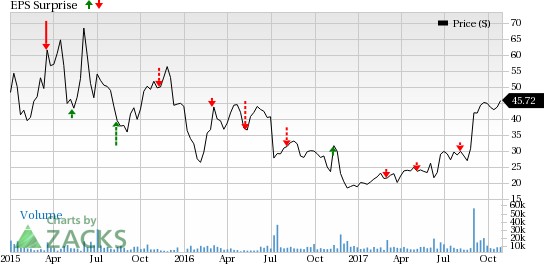 Juno Therapeutics, Inc. Price and EPS Surprise | Juno Therapeutics, Inc. Quote
Let's see how things are shaping up for this announcement.
Factors at Play
With no approved products in its portfolio, Juno is yet to generate any product revenue. Thus, investors' focus will primarily be on the company's cash burn and its pipeline updates.
Juno is developing cell-based cancer immunotherapies based on chimeric antigen receptor (CAR) and high-affinity TCR technologies. This is a hot therapeutic area with huge commercial potential. Presently, the company's most advanced pipeline candidates include JCAR017 and JCAR014, which use CAR T-cell technology to target CD19 (Cluster of Differentiation 19).
JCAR017 is in a phase I study for non-Hodgkin lymphoma (NHL) and in a phase I/II study in pediatric and young adults with acute lymphoblastic leukemia (r/r ALL). A pivotal trial for JCAR017 in r/r DLBCL (diffuse large B-cell lymphoma) is expected to start later this year. The company plans to bring JCAR017 to the market for NHL as early as 2018 and for multiple indications by the end of 2019.
We remind investors that recently, Novartis' NVS CAR T Kymriah and Gilead's Yescarta received FDA approvals for acute lymphoblastic leukemia and non-Hodgkin lymphoma, respectively. Hence, in the third quarter conference call, we expect investors to focus on updates from the company's plans to bring the CAR T therapy into the market space that has already induced competition due to the above-mentioned approvals.
We note that at the time of releasing second-quarter results, Juno maintained its expectations of cash burn in the $270-$300 million range for 2017.
Earnings Whispers
Our proven model does not conclusively show that Juno is likely to beat estimates this quarter. This is because a stock needs to have both a positive Earnings ESP and a favorable Zacks Rank #1 (Strong Buy), 2 (Buy) or 3 (Hold) for this to happen. This is not the case here, as you will see below.
Zacks ESP: Juno has an Earnings ESP of 0.00% as both the Most Accurate estimate and the Zacks Consensus Estimate are pegged at a loss of 82 cents. You can uncover the best stocks to buy or sell before they're reported with our Earnings ESP Filter.
Zacks Rank: Although Juno's Zacks Rank #3 increases the predictive power of ESP, its 0.00% Earnings ESP makes surprise prediction difficult.
We caution against all Sell-rated stocks (#4 or 5) going into the earnings announcement, especially when the company is seeing negative estimate revisions.
Stocks That Warrant a Look
Here are some health care stocks worth considering as per our model, these have the right combination of elements to beat estimates this quarter:
Clovis Oncology, Inc. CLVS is scheduled to release results on Nov 1. The company has an Earnings ESP of +2.01% and a Zacks Rank #2. You can see the complete list of today's Zacks #1 Rank stocks here.
Agenus Inc. AGEN is scheduled to release results on Nov 7. The company has an Earnings ESP of +8.11% and carries a Zacks Rank of 2 as well.
Zacks' Best Private Investment Ideas
While we are happy to share many articles like this on the website, our best recommendations and most in-depth research are not available to the public.
Starting today, for the next month, you can follow all Zacks' private buys and sells in real time. Our experts cover all kinds of trades… from value to momentum . . . from stocks under $10 to ETF and option moves . . . from stocks that corporate insiders are buying up to companies that are about to report positive earnings surprises. You can even look inside exclusive portfolios that are normally closed to new investors.
Click here for Zacks' private trades >>
Want the latest recommendations from Zacks Investment Research? Today, you can download 7 Best Stocks for the Next 30 Days.
Click to get this free report
Novartis AG (NVS): Free Stock Analysis Report
Agenus Inc. (AGEN): Free Stock Analysis Report
Clovis Oncology, Inc. (CLVS): Free Stock Analysis Report
Juno Therapeutics, Inc. (JUNO): Free Stock Analysis Report
To read this article on Zacks.com click here.
Zacks Investment Research