NZD/USD has been in a sharp rally from May through July, rallying from around 0.6820 to 0.7550 before retreating. The retreat has been pretty sharp, so I would be concerned about whether the bullish trend will continue.

NZD/USD Daily Chart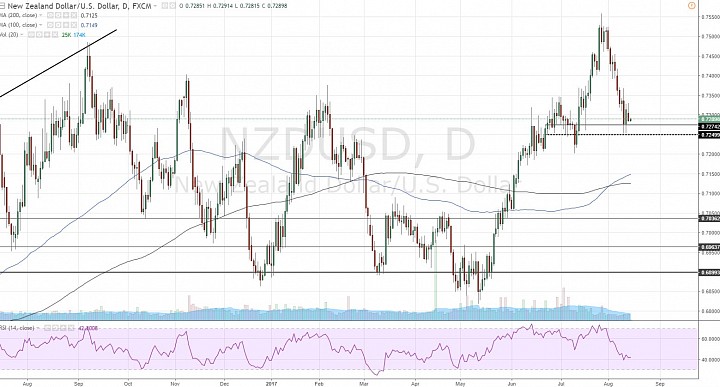 (click to enlarge)
Bulls Should Pivot Here:
- Often if a bullish trend is to sustain its momentum, the RSI will stay above 40.
- Right now, the RSI is right around 40 where it should turn up.
- It also looks like bulls are indeed making a stance for NZD/USD at 0.7250.
- A break below that opens up 0.72, and if price can retreat back to 0.72, I think NZD/USD would be in danger of giving up even more gains heading into September, when the Federal Reserve meets again to decide monetary policy.
- Now, if the pivot remains strong here at 0.7250, there is upside towards 0.74 and 0.7550. Note that these targets do not require a bullish continuation scenario, but simply a choppy sideways one.
- Imagine price retreating from 0.7550 back towards 0.7250 in a range trading mode.