Trade with confidence. Are you a professional trader? Be the first to get the alert with Benzinga Pro's real-time newsfeed and audio squawk and never miss an opportunity again.
Don't miss the chance to try it FREE today.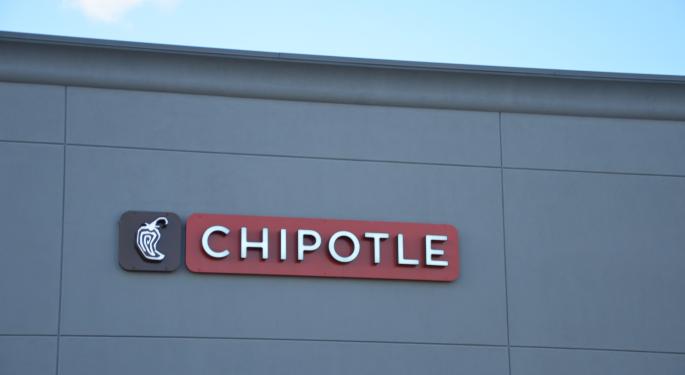 BTIG has downgraded Chipotle Mexican Grill, Inc. CMG 5.97% to Neutral from Buy on slower sales recovery, bumping the shares' fall down 4.92 percent in the pre-market hours.
The burrito chain reported a first-quarter loss of $0.88 a share, better than BTIG's estimate of a loss of $1.12 a share and consensus loss estimate of $1.06 a share. Revenue decreased 23.4 percent to $834.5 million, and comparable restaurant sales fell 29.7 percent, which missed BTIG's estimate of 28 percent drop.
Rating And Justification
"We are downgrading shares of Chipotle to Neutral from Buy given the slower pace of sales recovery and lack of details surrounding new sales driving initiatives such as chorizo and loyalty," analyst Peter Saleh wrote in a note.
Although, Saleh still believes "Chipotle will fully recover its lost sales," he is uncertain about recovery timing and the impact from promotional efforts.
During the first quarter, Chipotle ramped its promotional activities to recover lost traffic from the food safety incidents, and gave away 6 million free burritos in February and March.
"Chipotle indicated that same-store sales in April are down (22 percent) including the benefit from the Easter shift (26 percent excluding the calendar shift)," Saleh explained, comparing the figures to BTIG's estimate of -20 percent for the full quarter.
"We had anticipated stronger sales trends in April following the significant promotions in February and March and the lack of a more discernible improvement leaves too much uncertainty to maintain our Buy rating," Saleh noted.
In addition, Saleh said, "Through the first three weeks of April, traffic (excluding the Easter benefit) was (15 percent) in the middle of the country, the Southeast and mid-Atlantic. On the West Coast and in the Northeast, traffic is (24 percent) compared to (37 percent) in January, suggesting the company has only recovered 1/3 of customers in these markets."
What's To Come
Saleh said, "Chipotle will launch chorizo (chicken and pork spicy sausage) possibly in 2Q16 and plans to offer a limited-time loyalty program "though this appears to be in early stages."
Meanwhile, the analyst sees second-quarter comp of (20 percent) and said it is "achievable given current trends and the buy-one, get-one promotions."
However, the analyst cut his comp estimates for third quarter and fourth quarter to -12.5 percent and 5 percent, respectively.
Previously, he anticipated comps of -8.0 percent for the third quarter and 10 percent for the fourth quarter.
Saleh also reduced his 2016 and 2017 EPS estimates to $5.03 and $12.87 from $5.96 and $14.13, respectively.
Shares of Chipotle closed Tuesday's regular trading session at $445.92. In the pre-market, shares fell 4.92 percent to $424.
Date
Firm
Action
From
To
Apr 2016
BTIG Research
Downgrades
Buy
Neutral
Apr 2016
UBS
Maintains
Neutral
Apr 2016
Cowen & Company
Maintains
Market Perform
© 2016 Benzinga.com. Benzinga does not provide investment advice. All rights reserved.