USD/CAD is surging and just broke above the previous 2014-high of 1.1278. 

USD/CAD Daily Chart 10/15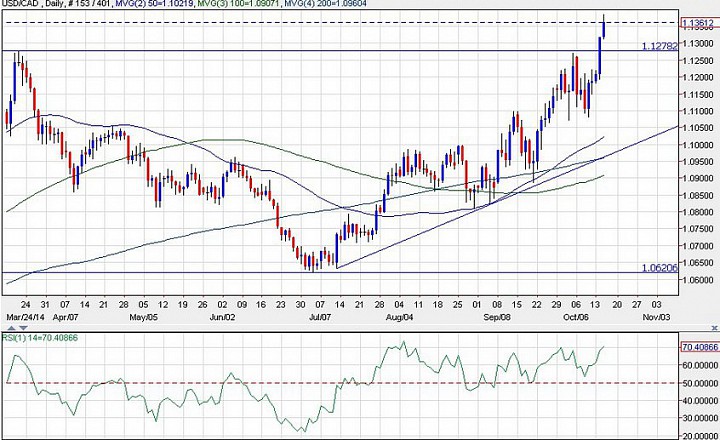 (click to enlarge)

The 1.1278 level which was also recently resistance is likely to turn into support. However, on a pullback, the USD/CAD will look bullish as long as price holds above 1.12. Below that we can see some bearish correction toward 1.11, then down to 1.10, but price usd dollar - loonie still looks bullish if it holds above the rising trendline from July.

Now, let's turn our attention to the monthly chart as the USD/CAD marks fresh highs on a year. We can see that the rally since July is part of an uptrend since 2011. Here are a couple more observations:
1) Price bounced of a rising trendline from 2012.
2) Price bounced off the 100-month simple moving average (SMA). This is called a bullish "slingshot" signal.
3) The 1.0657 level was a 3-year consolidation resistance. After being broken we have formed a 3-year price bottom. Then when price bounced above it, USD/CAD is confirming a long-term bullish outlook.
USD/CAD Monthly Chart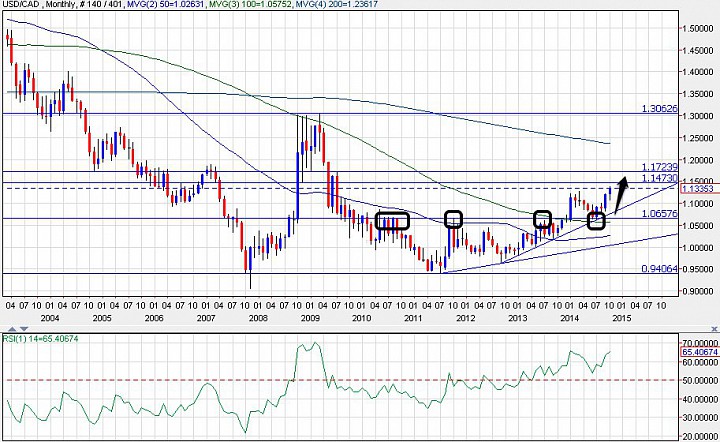 (click to enlarge)

In the short and medium-term there are a couple of bullish targets ahead:
1) The 1.1473 level i a previous support pivot. We should watch this level up to the 1.15 psychological handle for resistance.
2) The 1.1724 level is a key support/resistance pivot and could be the target/resistance in a few months.