In the 2009-2012 period, the recent adverse events, mediocre reports and broad warnings would have tripped up the U.S. stock market. Now, with 2013's steady rise under investors' belts and 2014's solid strength, the market is sending a clear message: Stock investing is back as investors focus on future fundamentals and return opportunities. Gone is the Great Recession-induced preoccupation with risk. It may be hard to remember from years past, but today's stock market has the look of normality.
With normality now in control, its unfamiliarity has many investors and pundits still viewing the market through old lenses. This happy circumstance means we don't need to worry about stocks being overvalued. There simply are too many underweighted stock investors (institutional and individual) out there that would love to buy on a dip. Such underlying, pent-up demand makes dips hard to come by, as shown by last week's actions.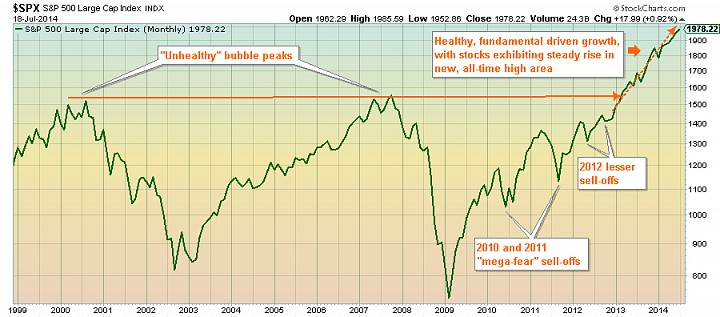 Stock chart courtesy of StockCharts.com
Risk commentary moves out of the limelight
In The Wall Street Journal this weekend (7/19-20), the front-page article, "Competition, Stock Surge Fuel Boom in Mergers," highlights the burgeoning corporate and Wall Street dynamics that necessarily bolster stock investors. After spending 900 words talking about the activities and their meaning, the article ends with the obligatory list of "on the other hand" risk items:
While many dealmakers said they haven't been this busy since 2007, they also fear a few bits of bad news could draw the party to a halt. A rise in interest rates would have a negative effect on M&A, bankers said.
Another potential downer: legislation targeting tax-driven deals. This week, Treasury Secretary Jacob Lew urged lawmakers to crack down on deals that enable U.S. companies to get foreign tax rates via acquisitions. With such deals representing a sizable portion of overall deal activity, any changes to tax law, or even fear of such a change, could affect deal volumes.
Bankers and lawyers also said the possibility of economic or geopolitical disruptions are always a wild card.
Note that "mega-fears" ("economic and geopolitical disruptions") are relegated now to one, generic sentence because those past scary visions (that failed to materialize) no longer spook investors. The investment thrust of the article is summed up in the last sentence:
Still, some people think the direction for deals is up. Citing low-cost debt, high profit margins and more upside for the economy, widely followed money manager Jeremy Grantham this week predicted a "deal frenzy" to "levels never seen before."
Does "levels never seen before" sound frightening and bubble-like? Don't let it. That is simply a description of growth in all-time high areas, something that happens with regularity in normal markets.
The bottom line
The U.S. stock market this week demonstrated resilience and strength in the face of adversity. Importantly, that condition is built on sound fundamentals, not over-optimism. The talk about over-valued stocks happens when an extended period of lower prices and periodic dips is followed by a run-up. To underweighted investors, it may seem that the now higher priced stocks must necessarily fall back to bargain prices again (thus allowing those underweighted investors to get back in at attractive prices). Eventually, though, that hope will peter out as prices continue to rise – exactly the condition in place this year.
So, how should we view stock valuations?
There are three rules to follow in a normal growth period:
First, focus on "forward" fundamentals. Wall Street's basic outlook is about six months out, so thinking about company developments coming in the future is the way to understand valuation. Focusing on corporate activities with payoffs beyond the six-month horizon (e.g., General Electric GE -0.56%'s major restructuring) can even get investors ahead of Wall Street.
Second, realize pricing is based on "you get what you pay for." Even though we're reading about stock pickers not doing well (using short-term, mutual fund performance as proof), investors and professionals are breaking away from "mega-trend" thinking. This means there is more differentiation between companies and their stocks. Therefore, don't think cheaper is better – likely, a lower forward P/E ratio indicates a weaker growth outlook.
Third, expect over-optimism to return, but not for some time.Importantly, when it does make a comeback, we will not read about it. Instead, identifying a bubble will require spotting contrarian signs: e.g., widespread, optimistic reporting and ever-faster stock price rises.
Source: 
http://www.forbes.com/