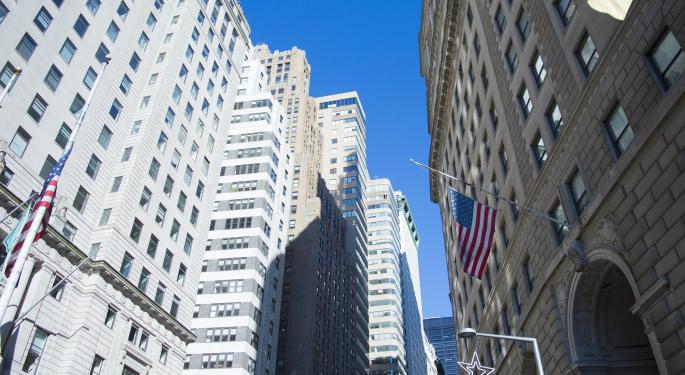 Below is a tool used by the Benzinga News Desk each trading day -- it's a look at everything happening in the market, in five minutes. Apply for daily AM access by clicking here or email minutes@benzinga.com.
Macro Focus
U.S. stock futures edged lower Tuesday, as investors waited for readings on personal income, spending and inflation, along with another batch of earnings. The dip puts the Dow Jones Industrial Average on track for its seventh down session in a row.
Oil prices traded higher as Brent crude futures rose 1.45 percent to trade at $42.90 per barrel, while US WTI crude futures also rose 1.32 percent to trade at $40.59 a barrel.
Data on motor vehicle sales for July will be released today.
USA Personal Income (MoM) for Jun 0.20% vs 0.30% consensus estimate. USA Personal Spending (MoM) for Jun 0.40% vs 0.30% consensus estimate.
The Treasury is set to auction 4-week bills at 11:30 a.m. ET.
BZ News Desk Focus
Some of last night's and this morning's most notable earnings:
Procter & Gamble PG Reports Q4 EPS $0.79 vs. Est. $0.74, Rev. $16.1B vs. Est. $15.83B
Texas Roadhouse TXRH Reports Q2 EPS $0.47 vs. Est. $0.45, Rev. $508.8M vs. Est. $509M
Nautilus NLS Reports Q2 EPS from Continuing Operations $0.12 vs $0.09 Est., Sales $78.5M vs $77.8M Est.
Molson Coors TAP Q2 EPS $1.11 vs $1.11 est, Revenue $986.2M vs $962.1M est
SodaStream SODA Reports Q2 EPS $0.37 vs $0.21 Est., Sales $119.2M vs $105.7M Est.
Sell-Side Themes
Keryx KERX was downgraded by at least three firms after some disappointing drug news.
Citi started coverage on a bunch of gold stocks, with Buy ratings for Barrick Gold ABX and Newmont Mining NEM.
Sell-Sides Most Noteworthy Calls
Deal Talk
Aetna AET have entered into separate agreements to sell certain of their respective Medicare Advantage assets to Molina Healthcare MOH for a total estimated $117 million in cash for both transactions, based on the estimated number of members in the plans involved in the transactions.
IBM IBM is reportedly in discussions to acquire point-of-sale company, Revel Systems, according to a Bloomberg report. Revel was valued at approximately $500 million in 2015.
In The News
Verizon's VZ purchase of Yahoo YHOO is the latest move by the telecom to expand into Hollywood and Silicon Valley. The plan is to own and distribute online content and use data collected from mobile phones to target advertising to tens of millions of users.
Warren Buffett eviscerated Donald Trump before introducing Hillary Clinton at a rally here Monday, challenging him to release his tax returns "How in the world can you stand up to a couple of parents who've lost a son and talked about sacrificing because you were building a bunch of buildings?" Buffett said before channeling Joseph Welch's question during the 1954 McCarthy hearings. "I ask Donald Trump: have you no sense of decency, sir?"
Blogosphere
Rules-based tactical vs. wizardry and witchcraft: "Is it possible that people are actually placing trades based on someone's feelings and selective interpretation of a narrow slice of data might lead to the ability foresee 90 days worth of random stock market activity?"
Trending
INO PG KERX HZNP CVS EMR JNUG CAH IDTI AET TAP SODA MNK ETN
Bieber and Britney joined Kanye and Kim on the Taylor Swift bandwagon bash. #TaylowSwiftWhatUp
Chart Of The Day
Can you guess the chart below? Here are three hints. Click here for the answer.
Deutsche Bank cut its price target on this stock by 45 percent in early July.
The Arizona-based company named Mark Widmar as its new CEO in April.
It will report Q2 earnings Wednesday after the bell. Analysts are looking for $0.55 earnings per share on revenue of $865.37 million.

© 2016 Benzinga.com. Benzinga does not provide investment advice. All rights reserved.