Yesterday, we had a solid breakout in one of our TrendLine SetUps as SFS traded above its trendline with a +169% increase in volume.
That bullish action always triggers a technical buy signal.
Today, I added 2 more set ups to the BuyingBreakOuts.com watch list.
This is just after adding two yesterday.
Smart & Final Stores, Inc. (SFS – NYSE)
Smart & Final Stores, Inc. operates as a food retailer in the United States. The company operates through two segments, Smart & Final and Cash & Carry.
Broke out in fine fashion on Wednesday as volume increased by +169% and shares traded above the downward trendline.
The stock went on to close the session at the highs, up better than +6%.
As noted yesterday morning – "A break above there ($16.69) with volume would have this selection clearing that resistance, and triggering a technical buy signal."
Going forward, any above average volume declines would be the first concern.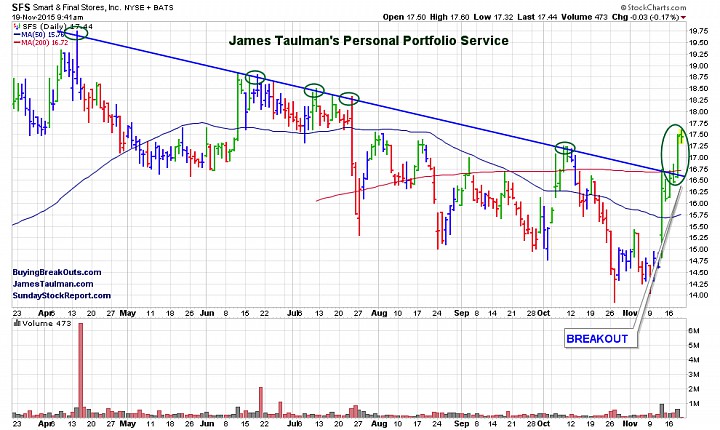 Here is a little about trendline set ups/breakouts.
When tracing out the downtrend, you need at least three points to define the trend. (See the green circles on the chart above.)
The more points you can connect the better.
Also, having those points fairly evenly spaced adds significance as well. Connecting a point that may be too far back in history may not have as much relevance to today's price action.
Another thing, since you are not buying a breakout to new highs, you need to watch for areas of resistance that may loom above your purchase price. These areas can include the 50 or 200-day moving averages or some previous price high or lows. These areas can halt any price progress. However, a break above – not only shows technical strength – but also turns that area into your support, which is nice.
Also, we can use the same trendline (blue line) that was resistance before the breakout as support after a breakout. In the event of a pullback, watch to see if shares hold or fall below that line. Just like with our traditional breakouts – say out of a flat base to new highs, we would not want to see a break back into the base.
_______________________________________________________