S&P500
So far during the month April, the Japanese yen has been strong. A slide in risk appetite can be attributed to JPY's strength because it is considered a safe-haven currency. The S&P500 reflects the risk-aversion in April.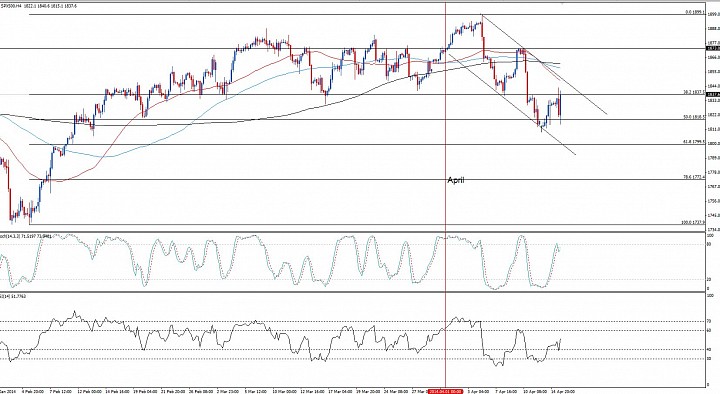 (S&P500 4H chart, 4/15)
The index, which many use as a proxy for sentiment has retraced 50% of the previous upswing from 1737.9 to 1899.1. Price action remains bearish, and JPY thus still has further upside. Another downswing in the S&P500 could be followed by further JPY-gains.
However a break above April's falling trendline and a push of the 4H RSI above 70 could be a sign that traders will also trade down the yen.


USD/JPY

A look at the dollar-yen shows the pair hovering above support factors that have been established in February and March. This follows a sharp fall in the pair last week.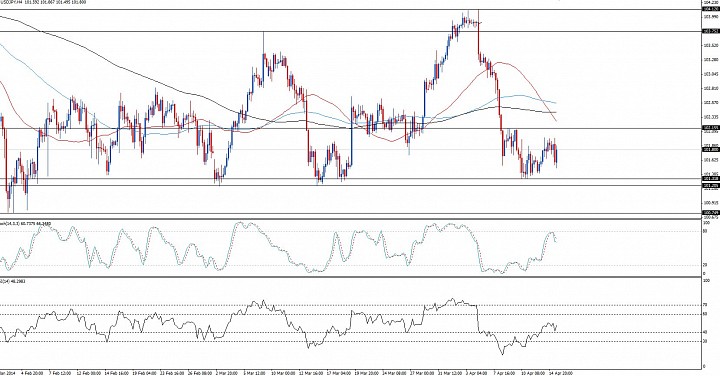 (usdjpy 4h chart, 4/15)
A break above 102.15 could be a sign of a bullish attempt that could challenge the current consolidation highs between 103.75 and 104.12.
A break below 101.20 however first opens up the 100.75 low on the year, and perhaps further downside risk toward the 100.00 handle. 
EUR/JPY

the euro-yen pair has also been sliding in April, within the context of a consolidation that started in March. The 139.90-140 area is providing support so far along with a rising trendline that goes back to Nov. 2013's low of 131.20.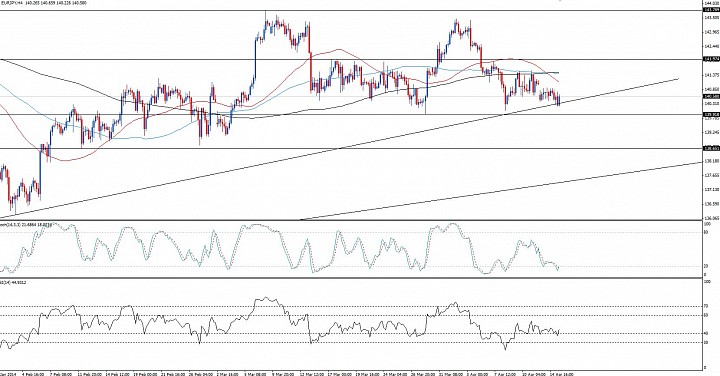 A break above 141 should clear this week's high and open up a bullish continuation scenario first to test the 142 handle, then the 143.50-143.80 highs of March and April. The 2014-high just above, at 145.68 will also be in the scope of the bullish scenario.

A break below 139.90 opens up support of a previous consolidation zone around 138.65. But even if the EUR/JPY is bearish in the short-term (week to week), it remains bullish in the medium term (month to month) as long as it holds above a rising trendline that goes back to a key pivot and June 2013's low of 124.95.
GBP/JPY

The pound-yen pair has been sliding as well in April, and is now hovering above a couple of key support factors. 
1) a rising trendline from June 2013's low near 147.60.
2) the resistance area of a previous consolidation zone in March.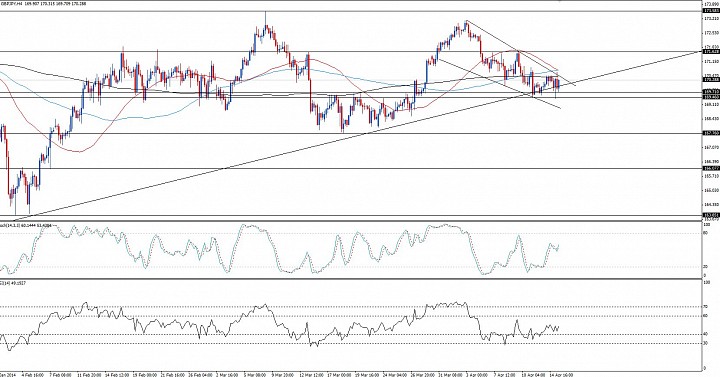 A clear push above this high of 170.90, and above 171 should be a sign of bullish continuation to challenge first the 171.62 pivot and then the 173.58 2014-high.
A break below 169.40 however opens up to the support levels of that March consolidation zone in the 167.75-168 area.