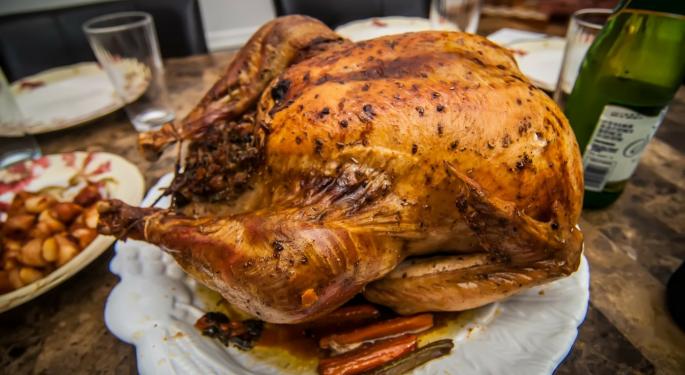 Retail giant Wal-Mart Stores, Inc. WMT 0.73% said it sold 150 million pounds of turkey and ham this Thanksgiving week, with more than 70 percent of traffic during the retailer's Black Friday event coming from mobile.
What Consumers Want
Besides the massive amounts of meat sold, throughout the month of November, Wal-Mart sold more than six pies per second. The most popular pies have been the Patti LaBelle sweet potato pie and classic pumpkin pies.
Amid the increasing shift of consumers from PCs to mobiles, the higher amount of traffic from mobile bodes well for Wal-Mart, which, along with other retailers, is investing heavily to take customers from e-commerce giant Amazon.com, Inc. AMZN 0.01% during this holiday season.
Black Friday, Starting Thursday
The retailer also saw good amount of traction for its Black Friday event, which kicked off across the country on Thursday at 6 p.m. Top sellers included televisions, cookware, video games and systems, drones, toys and pajamas.
Walmart begin its Cyber Week at 12:01 a.m. ET on Friday and will continue with thousands of online specials every day throughout the week.
Since, Thanksgiving Day, Black Friday and Cyber Monday combine for one of the top online shopping events of the year, customers can expect great https://www.walmart.com/browse/Christmas-Gifts/0/0/?_refiner...">deals from retailers over the weekend into next week.
"We will continue to focus on offering great prices on great products across the whole store and on Walmart.com for the rest of the holiday season," Steve Bratspies, chief merchandising officer, Walmart U.S. said in a press release.
Shares of Wal-Mart closed Wednesday's trading at $70.83. In Friday's pre-market session, Wal-Mart was up 0.71 percent at $71.33.
© 2016 Benzinga.com. Benzinga does not provide investment advice. All rights reserved.