Daily Observations
Strange trading action yesterday! Crude oil moved to a six month high. Retail merchandising stocks moved sharply lowered, triggered by weakness in Macy's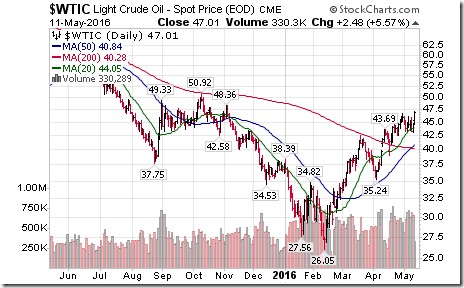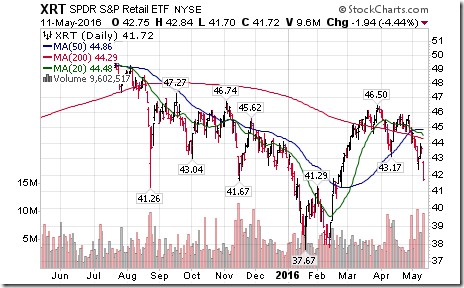 StockTwits Released Yesterday @EquityClock
Job openings hovering around the highest level on record, but the confidence of the labor force appears the concern.
Technical action by S&P 500 stocks to 10:15: Mixed. Breakouts: $CAC, $PM, $EA. Breakdowns: $ROST, $SPLS, $TJX
Editor's Note: After 10:15 AM, 5 more S&P 500 stocks broke support: $NKE,$VFC, $GGP, $COH, $CNC
Retail stocks $XRT remain under technical pressure. Breakdowns by $TJX, $ROST, M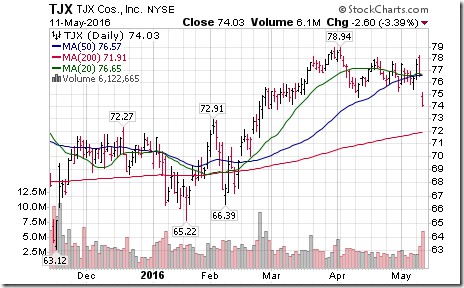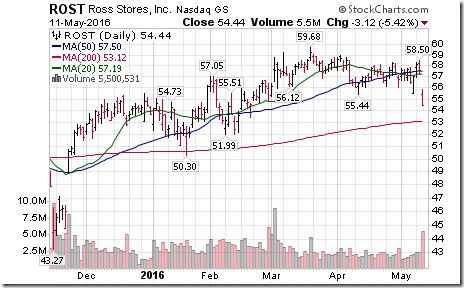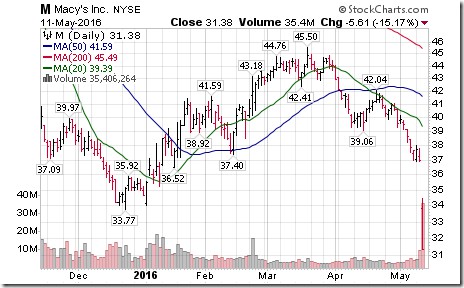 Weakness in Retail stocks has spilled into apparel producers. $NKE and $VMC broke intermediate support.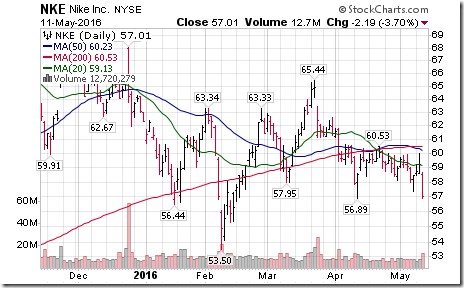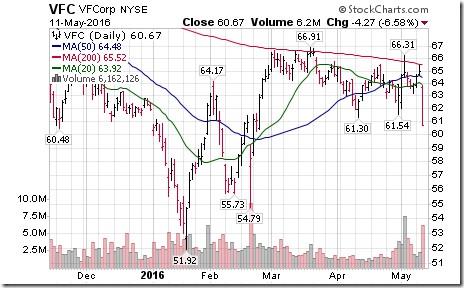 Trader's Corner
Most of the changes in technical score recorded on Tuesday were reversed yesterday
Daily Seasonal/Technical Equity Trends for May 11th 2016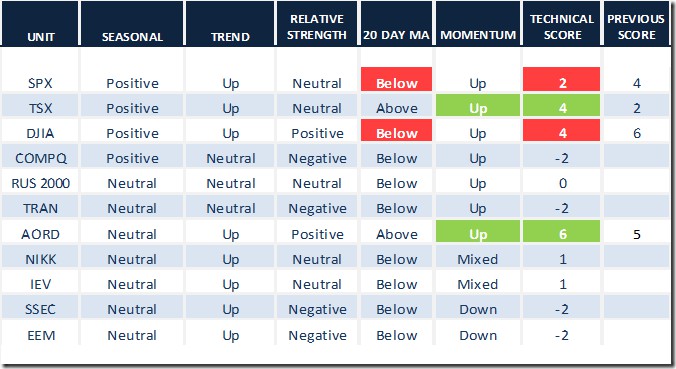 Green: Increase from previous day
Red: Decrease from previous day
Daily Seasonal/Technical Commodities Trends for May 11th 2016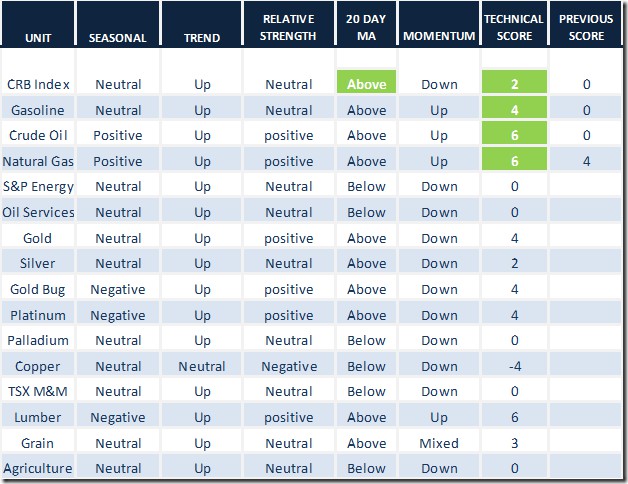 Green: Increase from previous day
Red: Decrease from previous day
Daily Seasonal/Technical Sector Trends for March May 11th 2016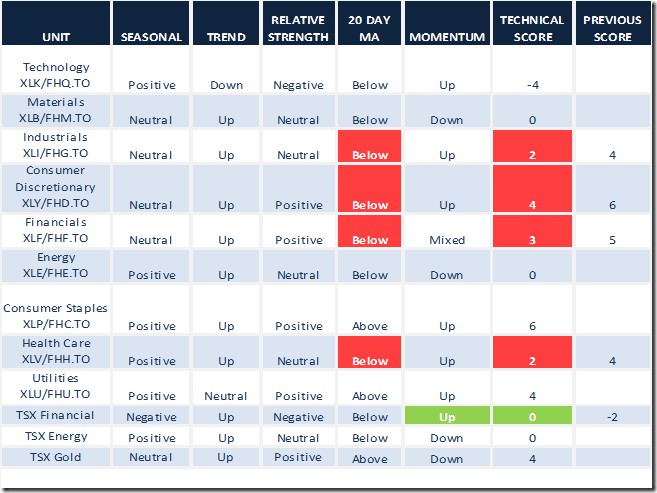 Green: Increase from previous day
Red: Decrease from previous day
Special Free Services available through www.equityclock.com
Equityclock.com is offering free access to a data base showing seasonal studies on individual stocks and sectors. The data base holds seasonality studies on over 1000 big and moderate cap securities and indices. To login, simply go to http://www.equityclock.com/charts/ Following are examples (both broke to new recent highs yesterday):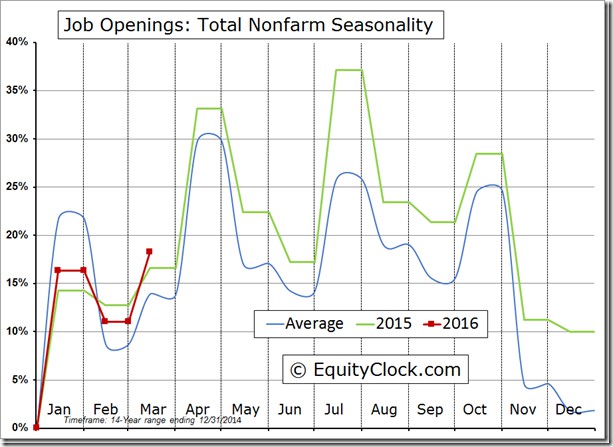 Keith Richards' Blog
Following is a link:
http://www.valuetrend.ca/5-fallen-canadian-angels/
Adrienne Toghraie's "Trader's Coach" Column

The Surf Trader
By Adrienne Toghraie, Trader's Success Coach
When the waves come crashing on to the shore, will you be riding the crest and reaching land or will you be left behind, far out to sea and never able to reach safety? What makes the difference between those who ride the crest and those who are forever left to ponder their fate far from their goal?
I worked with a trader named Les who was one of those traders who rides the crest as it speeds its way to the shore. He makes it look so effortless, like one of those genius surfers in the Pacific who stands defiantly astride his surfboard with his hair flying in the wind and a smile plastered on his face.
Do not be fooled, however, because easy it is not. Like a duck who glides across the water, but whose webbed feet are frantically paddling below the surface, the surf-trader is working hard every second to maintain his balance and his focus. He always has his eye on the goal and he is keenly aware of the level of risk.
What takes place under the surface?
Les talks about all the steps he takes each day to keep his professional and personal life going in the right direction. From the time he awakes in the morning he keeps moving, but he does so in a way that does not waste motion or energy. Part of his secret is that he has worked out a routine over the years that keeps him healthy and sets up his day so that he feels full of energy and enthusiasm and can take positive action. However, if you were to watch him, you would think he was like that duck that just glides across the water.
Les has two brothers who are struggling financially. When they get together for holidays, they gang up on Les and complain that he got all the luck and they got none of it. Their lives, as they see them, are filled with lost opportunities and failures, but through none of their own making. Since they feel that they work very hard in their respective jobs, they cannot see why Les has it "so easy."
Les will tell you, without judgment or self-righteousness, that when his brothers come home from work exhausted, they put their feet up and wait for their wives to serve them dinner. Afterwards, they sit in front of their televisions until they go to bed. In the morning, they start out tired because they have stayed up so late watching television that they do not have the time or energy to exercise. Instead, they grab a cup of coffee and a greasy sausage biscuit at McDonald's on their way to work. On the weekends, they play golf with friends and watch football or baseball games on the television.
When Les' brothers watch him get up early and go for a run and then finish up with a healthy breakfast, they laugh at him. They also make fun of his other routines and the fact that he does not keep up with all of their favorite TV programs and sporting events.
Expectation is key
Les is surfing the crest of the wave, and he will reach the shore while his two brothers will only have a glimpse of it from afar. However, despite their outward contempt of their older brother, whenever they are in financial need, they come to him for help, expecting that he will always be there for them.
Les' brothers expect Les to be successful and that he is obliged to help them. Their expectations are matched by his own set of expectations. Les expects the following that:
· He will be totally responsible for his welfare and his level of success in life.
· He can rely upon no one, although he does enlist his family in their support of his career. He expects that they will occasionally let him down.
· If he needs help, he expects that there will be no one there to pick him up and pay the piper for him. He has family and close friends, but he does not expect that they will have the resources or ability to solve his problems.
· Most of the time he will succeed, but that some of the time he will fall off his board, and that when he does he will have to pay the price.
Les describes himself as neither an optimist nor a pessimist, but he is clearly more optimistic than pessimistic. Instead, he thinks of himself as a realist – a duck on a glassy pond who will only get to the other shore if he paddles like mad.
He has one other observation regarding his surf-trader life. According to Les, staying on that crest and not falling off requires you to continue to paddle under the surface. That strategy of continuing to paddle translates to continuing to do the following:
· Keeping up with your market research. Markets change just as the wind and water conditions continue to change from moment to moment. Staying on the crest means that you have to know what is going on at all times.
· Keeping yourself surfer-conditioned. You cannot stay on the crest if you are tired, out of focus, and not strong enough to maintain your balance and control. So, you need to keep up your healthy habits every day.
· Keeping your mind surfer-ready. If you are to be keenly aware of what is happening around you, your mind must be clear and focused. This state of mind-health requires that you work on your emotional and psychological health just like you work to condition your body. It was for this reason that Les came to work with me.
Adrienne Toghraie Presents Free Webinar
Overcoming Conflicts in Trading
Tuesday, June 21st
Email Adrienne@TradingOnTarget.com
Disclaimer: Seasonality and technical ratings offered in this report by www.timingthemarket.ca and www.equityclock.com are for information only. They should not be considered as advice to purchase or to sell mentioned securities. Data offered in this report is believed to be accurate, but is not guaranteed