GBP/CHF recently popped up from what looks like a possible price bottom. The fact is there pound-swissie was in a bullish mode and price climbed from  about 1.4655 to about 1.51 in September. Whether the late-August price action was a price bottom remains to be seen.

GBP/CHF 4H Chart 9/14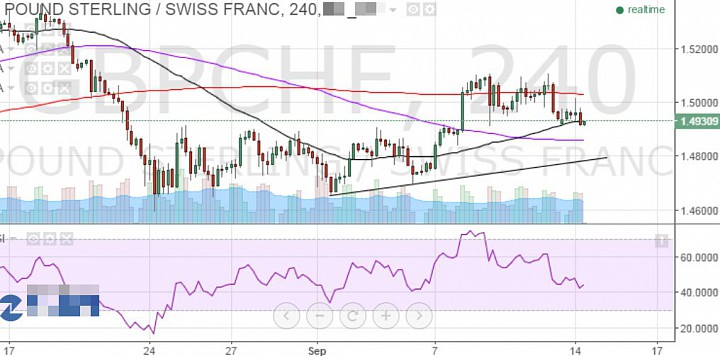 (click to enlarge)

The 4H chart shows the market shifting from a bearish mode to a sideways mode to a bullish mode. Last week however, price action flattened under 1.51 and is now holding below 1.50. Bearish candles are starting to dominate. Furthermore, today's rejection from going above 1.50 suggests that bears are in control in the short-term. I would anticipate a break towards the 1.48 area or slightly lower where price will be met by a rising speedline. If price can hold above 1.48 after the anticipated pullback, then that late-August range could indeed be a price bottom. Thus holding above 1.48 after some short-term bearish attempt this week would add to the bullish outlook that would put the August highs around 1.54 in sight.