When we summarized yesterday's very strong 5 Year auction, we previewed today's 7 year issuance as follows: "assuming no material changes in the demeanor of the market over the next 24 hours, expect tomorrow's 7Y auction to also proceed without a hitch. In fact, the more the general sense of risk-off, the stronger tomorrow's auction will likely be."
That's precisely what happened.
Moments ago the Treasury announced it sold $29 billion in 7 Year notes, at a yield of 1.813%, 0.1bps through the When Issued, the lowest yield on the belly of the curve since March 2015, with a Bid to Cover of 2.516, 6 bps higher than the TTM average of 2.45. But while the headline data was solid it was the internals that showed a dramatic surge in foreign central bank interest for this most convex on the curve paper, when Indirect Bidders took down 62.6%. This was the highest indirect bid since December 2010, which left just 8.9% for Directs and a paltry 28.5% for Dealers, the lowest since March 2014.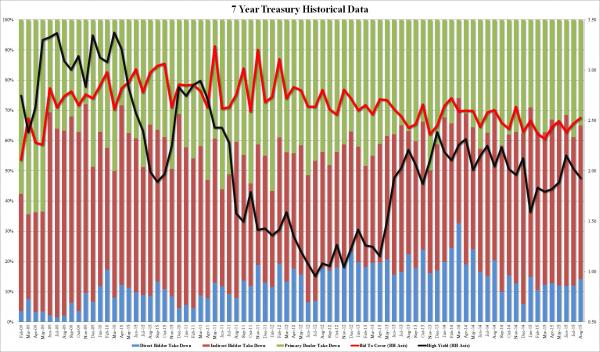 And with that another successful week of bond issuance concludes, which has to thank if not so much China selling than certainly Janet Yellen for spooking stocks and inciting a Great Unrotation from equities in bonds yet again.