Shares of TiVo Corporation TIVO, a provider of digital home entertainment services and solutions, have been performing well of late.
If you haven't taken advantage of the share price appreciation yet, its time you hold the stock to your portfolio as it looks promising and is poised to maintain the momentum. Although these stocks at times are weighed down by tough market conditions, they have potential to filter the negatives and focus on the positives.
This Zacks Rank #3 (Hold) stock has an estimated long-term earnings growth rate of 10% and a market cap of 2.28 billion.
Earnings Surprise History Encouraging
TiVo outpaced the Zacks Consensus Estimate in two of the trailing four quarters, generating a positive average earnings surprise of 67.6%.
Ahead of the Industry
TiVo has outperformed the Zacks categorized Internet Services industry over the past one month. Share price of TiVo rose 5.2% compared with the industry's gain of just 1.7% over the same time period.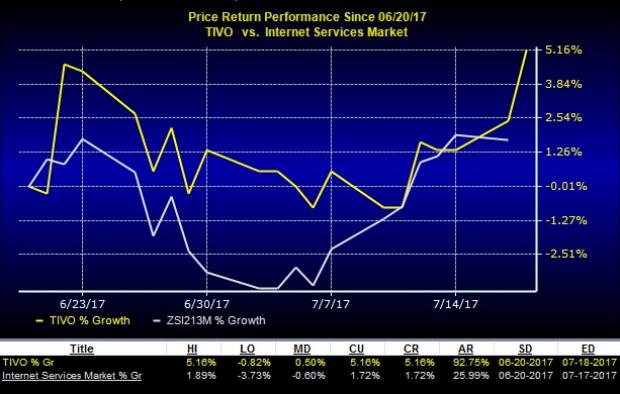 Valuation
On the valuation front too, the stock looks attractive. The company currently trades at a forward P/E multiple of 17.7x, which is significantly lower than the Zacks industry's average of 36.0x. The ratio is obtained by dividing a stock's current market price with its historical or estimated earnings and measures how much an investor needs to shell out per dollar of earnings. The lower the P/E of a stock, the better for a value investor.
Growth Drivers
The merger of Rovi and TiVo has brought together two leading players in the media entertainment industry, which has complementary products and services and a number of patented technologies. The two companies have been witnessing stiff competition from Internet video providers such as Alphabet's YouTube, Netflix Inc. NFLX, Apple and Roku. Notably, these two companies were arch rivals and their merger will prove to be mutually beneficial. The new TiVo has become the global leader in entertainment technology and audience insights. The company currently has a wide range of products ranging from from interactive program guide to DVR. The combined company will have over 6,000 issued and pending patents offering it a competitive advantage against media and tech giants.
TiVo's innovative product pipeline is a major growth catalyst, in our view. The company's strategy of offering content on all devices on a real-time basis significantly enhance the utility of its products, which will drive demand, going forward. The TiVo Roamio has gained significant traction due to its added ability to connect the company's mobile apps and stream and download live as well as recorded television program. To improve customer engagement, the company launched "What to Watch Now" app for iPad owners. We believe that the company's innovative product pipeline will drive significant top-line growth over the long term.
A potential revenue stream for TiVo is advertising. The acquisition of advertising analytics provider, TRA Inc., has helped the company to focus on expanding its television ad analytics business. Moreover, the company's existing partnerships with NBC and CBS and six of the world's largest advertising companies (WPP, IPG, Publicis, Havas, Carat and Omnicom Media Group) will boost ad revenues going forward. Viewing through DVR is becoming significant part of the advertisement buying equation as its penetration is expected to grow at a favorable rate over the next 3–4 years. We believe that this should trigger a surge in the demand for TiVo technology.
Risk Remains
Intense competition is eroding TiVo's subscriber base. The company faces increasing competition from cable and satellite providers, who offer bundled up DVR service with digital cable in one set-top box at comparable monthly subscription rates and without any upfront costs. It faces significant competition from a number of companies, which have created competing DVR technologies and offer attractive licensing agreements to service providers and manufacturers of DVRs, thereby leaving little to no scope for differentiation.
Last Word
Looking at these positives, we feel TiVo is a technology stock that deserves a place in investors' portfolio.
Stocks to Consider
Few better-ranked stocks in the broader technology sector are Broadcom Limited AVGO and Applied Optoelectronics, Inc. AAOI, each sporting a Zacks Rank #1 (Strong Buy).You can see the complete list of today's Zacks #1 Rank stocks here.
Broadcom and Applied Optoelectronics have a long-term expected earnings growth rate of 13.6% and 18.7%, respectively.
Looking for Stocks with Skyrocketing Upside?
Zacks has just released a Special Report on the booming investment opportunities of legal marijuana.
Ignited by new referendums and legislation, this industry is expected to blast from an already robust $6.7 billion to $20.2 billion in 2021. Early investors stand to make a killing, but you have to be ready to act and know just where to look. See the pot trades we're targeting>>
Want the latest recommendations from Zacks Investment Research? Today, you can download 7 Best Stocks for the Next 30 Days.
Click to get this free report
Netflix, Inc. (NFLX): Free Stock Analysis Report
TiVo Corporation (TIVO): Free Stock Analysis Report
Broadcom Limited (AVGO): Free Stock Analysis Report
Applied Optoelectronics, Inc. (AAOI): Free Stock Analysis Report
To read this article on Zacks.com click here.