Lakeland Industries, Inc. LAKE manufactures and sells a comprehensive line of safety garments and accessories for the industrial protective clothing market. This Zacks Rank #1 (Strong Buy) company has solid prospects and should make a valuable addition to your portfolio. Let us delve deeper into the other factors which make this stock a lucrative pick.

Stock Price Movement

Shares of Lakeland have returned over 38% so far this year, comparing favorably with the Protection-Safety Equipment & Services industry's gain of 8.7%. That said, we noticed that the company has outperformed the industry in each of the 4-week, 12-week and 52-week time frames.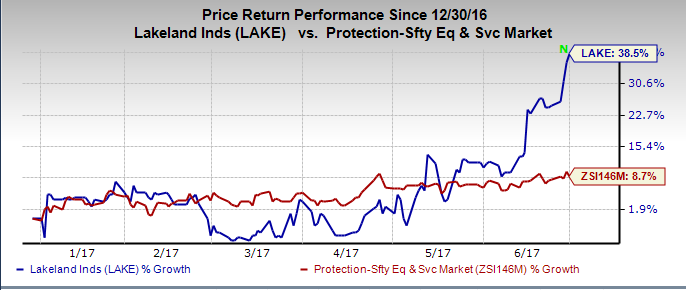 Earnings & Revenue Growth

Lakeland makes a great pick in terms of growth investment. Arguably, nothing is more important than earnings growth as surging profit levels are often reflective of solid prospects.

Lakeland has a historical EPS growth rate (average trailing 12-month EPS growth rate over the last 3-5 years of actual earnings) of 43.1%, compared with the industry average of 12.8%. The company's fiscal 2018 earnings is likely to grow at a rate of 56.6%, more than the industry's average EPS growth of 12.8%.

Notably, the company's sales growth in fiscal 2018 is projected at around 8.6%.

For these reasons, the company currently has a Growth Score of 'A' on our style score system that helps us identify potential outperformers.

Valuation Looks Rational

Lakeland has a Value Style Score of 'B', putting it into the top 40% of all stocks we cover from this perspective.

The company currently has trailing 12-months Price-to-Earnings (P/E) ratio of 18.70, while the Industrial Products sector's P/E stands at 22.80. This indicates that the stock is undervalued right now, compared to its peers.

Moreover, its forward P/E ratio (price compared to this year's earnings) is lower at 17.05. This indicates that a slightly more value-oriented path may be ahead for Lakeland.

Looking at the company's sales, the company currently trades at a Price-to-sales (P/S) ratio of 1.19, significantly lower than the industry average of 3.16. Some prefer this metric more than other value-focused ones because sales are harder to manipulate with accounting tricks than earnings.

An often overlooked ratio that can still be a great indicator of value is the price/cash flow metric. This ratio doesn't take amortization and depreciation into account and thus can give a more accurate picture of the financial health of a business. Lakeland has a P/CF of 15.83, lower than the industry average of 45.02.

All these ratios show that the company is undervalued in comparison to its industry peers and thus it a good time to place a bet on the stock.

Earnings History and Future Estimates

Lakeland has beaten earnings estimates in three of the trailing four quarters, at an average of 49.26%.

Furthermore, over the past 60 days, the company has been seeing an upward trend in earnings estimate revision for fiscal 2018 (up 9.2%) and fiscal 2019 (up 3.5%). These positive earnings estimate revisions indicate analysts' confidence in the stock.

Industry Outlook Positive

The Zacks Protection-Safety Equipment & Services industry has outperformed the broader market over the last six months. Currently, the industry ranks among the top 28% (75 out of 265 industries). Along with the strong past performance of the industry, a good industry rank signals that the stock is likely to benefit from favorable broader factors in the immediate future.

Lakeland is expected to perform well in the quarters ahead, given its strong fundamentals. Moreover, the company's VGM Score of 'A' coupled with a Zacks Rank #1 makes for a solid investment choice.

Other Stocks to Consider

Other top-ranked stocks in the industry include Allegion PLC ALLE, G4S PLC GFSZY and Ituran Location and Control Ltd. ITRN.

All three companies carry a Zacks Rank #2 (Buy). You can see the complete list of today's Zacks #1 Rank stocks here.
Allegion is likely to witness 10.8% rise in 2017 earnings, while G4S PLC and Ituran are expected to exhibit 13.3% and 32.7% earnings growth in 2017, respectively.

5 Trades Could Profit ""Big-League"" from Trump Policies

If the stocks above spark your interest, wait until you look into companies primed to make substantial gains from Washington's changing course.

Today Zacks reveals 5 tickers that could benefit from new trends like streamlined drug approvals, tariffs, lower taxes, higher interest rates, and spending surges in defense and infrastructure. See these buy recommendations now >>
Want the latest recommendations from Zacks Investment Research? Today, you can download 7 Best Stocks for the Next 30 Days.
Click to get this free report
Lakeland Industries, Inc. (LAKE): Free Stock Analysis Report
Allegion PLC (ALLE): Free Stock Analysis Report
G4S PLC (GFSZY): Free Stock Analysis Report
Ituran Location and Control Ltd. (ITRN): Free Stock Analysis Report
To read this article on Zacks.com click here.
Zacks Investment Research