The month of October was characterized by a slew of upbeat earnings, especially in the tech sector. Also, renewed Trump trade on hopes of the passage of tax reforms kept enthusiasm alive in Wall Street.
The S&P 500-based ETF SPY, Dow Jones Industrial Average-based ETF DIA and the Nasdaq-100 based ETF QQQ added about 2.2%, 4.3% and 4.2%, respectively. The U.S. dollar ETF PowerShares DB US Dollar Bullish ETF UUP gained about 1.6% in the last one month (as of Oct 30, 2017).
Against this backdrop, it is important to pin point ETF areas that beat an already charged-up market. Let's have a look at it.
Metals
It seems that industrial metals are back with a bang. An uptick in global growth and a relatively moderately stronger greenback have added to the metal's strength. Be it developed economies or the developing ones, all are exhibiting harmonized growth, as deemed by Jeffrey Sherman, DoubleLine Capital's deputy CIO. He believes that we haven't witnessed "this coordinated growth since '04, '05, and '06."
Industrial metals, which have long been in stagnation, are now getting the love of hedge funds too. Reduction in output has finally adjusted excess supplies, leading to higher prices for industrial metals. As a result, a few metal-based exchange-traded products like iPath Bloomberg Lead SubTR ETN LD, iPath Pure Beta Industrial Metals ETN HEVY and iPath Bloomberg Nickel SubTR ETN JJN gained about 17.7%, 16% and 12.7%, respectively in the last one month (as of Oct 30, 2017) (read: Forget Gold, Bet on These Industrial Metal ETFs for 2017).
Solar
Solar stocks have been on a tear lately. One of the prime reasons for this is upbeat third-quarter earnings of the U.S. solar-panel manufacturer First Solar FSLR. The company beat our estimates for earnings and revenues and raised its earnings outlook for the year. Probably, this acted as a cornerstone for the entire space and gave a boost to Guggenheim Solar ETF TAN (up 11.45% in the last one month (as of Oct 31, 2017). In any case, the operating backdrop of the sector is pretty upbeat (read: ETFs to Gain on First Solar Q3 Earnings Beat).
India
India ETFs are experiencing high momentum on economic optimism. Decent GDP data defying demonetization, the victory of the pro-growth prime minister's party in some state elections, implementation of goods-and-services tax or GST from July, and still-solid inflows from retail investors are driving Indian stocks.
Plus,a report by State Bank of India indicated that India's fiscal second-quarter growth may offer some positive surprise (could be over 7%), following three-year low growth registered in the first quarter of fiscal 2018. Factors including manufacturing indices, passenger and freight traffic and corporate earnings during the quarter should contribute to stronger growth.
All these factors and hopes boosted India ETFs like Columbia India Infrastructure ETF INXX (up 10.4%), VanEck Vectors India Small-Cap ETF SCIF (up 9.8%) and iShares MSCI India Small-Cap ETF SMIN (up 7.3%) in the last one month (Oct 30, 2017) (read: 4 India ETFs to Brighten Your Portfolio This Diwali).
Semiconductor
Semiconductor stocks had every reason to put up a great show in October. Rise in cloud computing, surge of bitcoins and upbeat forecast for electronics sales in the holiday season – all call for greater demand for semiconductors.
So, notable performance by semiconductor ETFs like PowerShares Dynamic Semiconductors ETF PSI (up 8.1%), First Trust Nasdaq Semiconductor ETF FTXL (up 8.9% in the last one month (as of Oct 30) and VanEck Vectors Semiconductor ETF SMH (up 7.8%) is understandable (read: Bitcoin Update: Goldman Trading & ETF Filings).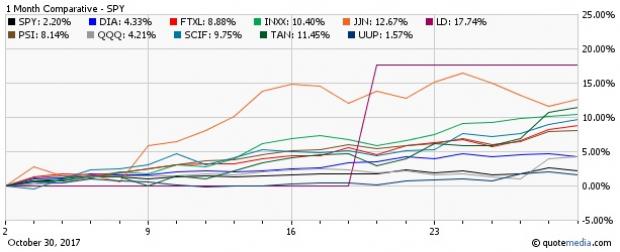 Want key ETF info delivered straight to your inbox?
Zacks' free Fund Newsletter will brief you on top news and analysis, as well as top-performing ETFs, each week. Get it free >>
Want the latest recommendations from Zacks Investment Research? Today, you can download 7 Best Stocks for the Next 30 Days.
Click to get this free report
SPDR-DJ IND AVG (DIA): ETF Research Reports
NASDAQ-100 SHRS (QQQ): ETF Research Reports
SPDR-SP 500 TR (SPY): ETF Research Reports
PWRSH-DB US$ BU (UUP): ETF Research Reports
PWRSH-DYN SEMI (PSI): ETF Research Reports
VANECK-SEMICON (SMH): ETF Research Reports
GUGG-SOLAR (TAN): ETF Research Reports
ISHARS-M IND SC (SMIN): ETF Research Reports
IPATH-BB NCKL (JJN): ETF Research Reports
IPATH-BB LEAD (LD): ETF Research Reports
VANECK-INDIA SC (SCIF): ETF Research Reports
COL-INDIA INFRA (INXX): ETF Research Reports
FT-NDQ SEMICON (FTXL): ETF Research Reports
First Solar, Inc. (FSLR): Free Stock Analysis Report
IPATH-PB IND MT (HEVY): ETF Research Reports
To read this article on Zacks.com click here.
Zacks Investment Research
Want the latest recommendations from Zacks Investment Research? Today, you can download 7 Best Stocks for the Next 30 Days. Click to get this free report