Hancock Holding Company HBHC reported second-quarter 2017 adjusted earnings of 68 cents per share, in line with the Zacks Consensus Estimate. The bottom line compares favorably with the prior-year quarter earnings of 59 cents.

The earnings growth was supported by a rise in the net interest income and non-interest income. Growth in loans and deposits remained strong. Lower provisions for loans also acted favorably. However, higher expenses was the key dampener. A rise in non-performing assets was also on the downside.

Considering several one-time items, net income for the quarter came in at $52.3 million, up 11.5% from the prior-year quarter.

Revenue and Expenses Increase

Hancock's net revenue for the quarter was $267.2 million, up 16.9% year over year. Revenues outpaced the Zacks Consensus Estimate of $265 million.

Quarterly net interest income grew 21.1% year over year to $199.7 million. Also, reported net interest margin (NIM) rose 18 basis points from the prior-year quarter to 3.43%.

Non-interest income totaled $67.5 million, up 6% from the year-ago quarter. The growth was driven by an improvement in all the components, except trust fees, insurance commissions and fees and securities transaction fees.

Total adjusted operating expenses increased 14.6% year over year to $172.9 million. The rise was primarily due to higher personnel, net occupancy, equipment and other operating expenses along with amortization of intangibles.

Credit Quality Shows Overall Improvement

Net charge-offs from the non-covered loan portfolio was 0.13% of average total loans, down from 0.20% in the year-ago quarter. But, total nonperforming assets increased 6.7% year over year to $346.8 million.

Provision for loan losses declined 14% year over year to roughly $15 million thanks to a rebound in oil prices.

Strong Balance Sheet; Deterioration in Profitability & Capital Ratios

As of Jun 30, 2017, total loans grew 6.2% sequentially to $18.4 billion. Further, total deposits rose 7.2% from the prior quarter to $20.9 billion.

Return on average assets was 0.79% at Jun 30, 2017, down from 0.82% as of Jun 30, 2016. Moreover, as of Jun 30, 2017, return on average common equity was 7.52% compared with 7.76% as of Jun 30, 2016.

As of Jun 30, 2017, Tier 1 leverage ratio was 8.21%, down from 8.22% as of Jun 30, 2016. Further, Tier 1 risk-based capital ratio came in at 9.98%, up from 9.94% as of Jun 30, 2016.

Outlook for 2017

Management estimates charge-offs from energy-related credits to be roughly in the range of $65-$95 million. The company expects additional charge-offs in the energy portfolio, though it believes these will be manageable.

Moreover, the company expects to have a strong capital position along with sufficient reserves.

Our Viewpoint

We believe Hancock's organic and inorganic growth strategies will accelerate revenue generation going forward. Further, the company's efforts to upgrade its online banking facility are expected to lower expenses in the quarters ahead.

Hancock Holding Company Price, Consensus and EPS Surprise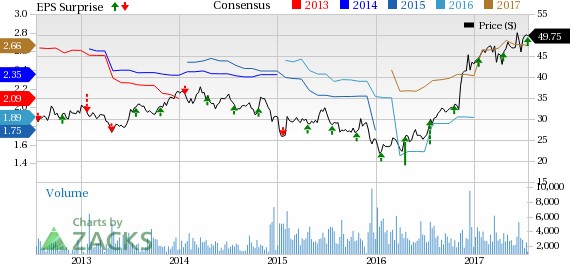 Hancock Holding Company Price, Consensus and EPS Surprise | Hancock Holding Company Quote
Presently, Hancock carries a Zacks Rank #2 (Buy). You can see the complete list of today's Zacks #1 Rank (Strong Buy) stocks here.

Performance & Upcoming Releases of Other Stocks

Among the other Southeast banking stocks, First Horizon National Corporation FHN posted earnings of 27 cents per share in second-quarter 2017, surpassing the Zacks Consensus Estimate by a penny. Decline in expenses and improving credit quality are attributable to this outperformance.

Both Capstar Financial Holdings, Inc. CSTR and Trustmark Corp. TRMK are scheduled to report their quarterly earnings reports on Jul 27 and Jul 25, respectively.

Looking for Stocks with Skyrocketing Upside?

Zacks has just released a Special Report on the booming investment opportunities of legal marijuana.

Ignited by new referendums and legislation, this industry is expected to blast from an already robust $6.7 billion to $20.2 billion in 2021. Early investors stand to make a killing, but you have to be ready to act and know just where to look. See the pot trades we're targeting>>
Want the latest recommendations from Zacks Investment Research? Today, you can download 7 Best Stocks for the Next 30 Days.
Click to get this free report
First Horizon National Corporation (FHN): Free Stock Analysis Report
Trustmark Corporation (TRMK): Free Stock Analysis Report
Hancock Holding Company (HBHC): Free Stock Analysis Report
Capstar Financial Holdings Inc. (CSTR): Free Stock Analysis Report
To read this article on Zacks.com click here.
Zacks Investment Research