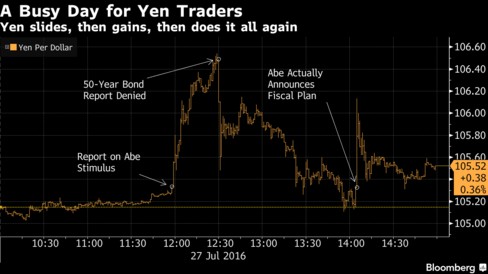 What a morning already. 
Japan's PM, Shinzo Abe made a surprise announcement of a 28 TRILLION Yen stimulus package just two days ahead of the BOJ meeting.  28Tn Yen is "just" $265Bn but Japan's economy is 1/4 the size of the US, so think of it as a US $1Tn stimulus – that is impressive by any measure! 
As you can see on the chart, it's been a muted reaction by the Yen so far as we wait for details on Abe's plan, wait for our own Fed to make a decision (2pm) and then wait for the BOJ's decision on Friday so a lot of waiting is in our immediate future and, meanwhile, let's talk about yesterday and yesterday's FANTASTIC call to short the Futures at:
18,450 on the Dow (

/YM

), low was 18,311 for a

$659 per contract gain

2,165 on the S&P (

/ES

), low was 2,154 for a

$550 per contract gain

4,650 on the Nasdaq (

/NQ

), low was 4,650 for a

$200 per contract gain

The Russell never went below our shorting line at 1,205 but we ran up to 1,213 and I called a short there in our Live Member Chat room and we caught a dive back to 1,205 for an $800 per contract gain on that one – TWICE! 
Today we're looking much higher with the Russell over 1,215, Dow 18,450 again, S&P 2,167.50 and the Nasdaq is testing 4,700 (/NQ Futures) thanks to an upside surprise from Apple's earnings report.  AAPL is a key long at PSW and yesterday morning I said to our Members:
AAPL/Selozi – Talk about stupidly undervalued stocks.  I hope AAPL misses so we can double down on our longs but expectations are so low, I'm not sure they can miss them.  36 analysts cover this stock and they are expecting just $42Bn in sales, off 15% from last year's $49.6Bn.  Will be very interesting to see what actually happens but the stock is already down 30% from last summer's $130, even though they will be making about $1.35ish for their historically slowest Q, on the way to $8+ per what are now $97 shares for the year.

I get bored saying AAPL is a buy but come on people – how can you not own this stock at $97/share when they have $40/share in the bank and —- no, not going to get sucked into that again – just read the F'ing numbers and buy AAPL!!!

As a new trade, you can sell the 2018 $80 puts for $6 and use that money to buy the 2018 $90 ($15)/115 ($5) bull call spread for $10 and then you are in the $25 spread that's $7 in the money for net $4 so all AAPL has to do is hold $97 and you make $75% back on your cash.  

Really, why do we even play other stocks?
Apple is blasting higher pre-market ($104) on the expected earnings beat.  We already made AAPL a major play in our Options Opportunity Portfolio back on July 12th, when I said to our Seeking Alpha followers:
We have 10 AAPL 2018 85 calls and 5 short 2018 $90 puts. We want to add to the position AND cover into earnings, so lets:

 

Sell 20 AAPL 2018 $110 calls for $6.65 ($13,300)

Buy 10 AAPL 2018 $85 calls for $18.20 ($18,200)

 

That way, we're spending net $4,900 and now we have 20 of the $25 spreads for a possible $50,000 return if AAPL is over $110. Would make our whole year if all goes well!
As of yesterday, the net of the spread was only $18,587 out of a potential $50,000 that is now nicely on track.  That should provide a nice boost into next year for our $100,000 basis portfolio (+31.5%) if all goes according to plan – not bad for a single position.  

Trades like that are why our Options Opportunity Portfolio is up 60% in our first year at Seeking Alpha and, as you can see, we didn't have to set an aggressive goal to make aggressive returns, we just had to find a solid, undervalued stock we could take advantage of.  We found two more like that yesterday in our Live Member Chat Room over at PSW but, sadly, they are for Members only so, if you are reading this for free then, like AAPL, you'll have to wait for us to be done with it before we share the details. 
Making money trading stocks is not that complicated folks – buy the cheap ones!  Learn how to be a value investor and then learn to ONLY buy stocks that are on sale.  There are 9,000 stocks out there and there's alway a sale on something – there's no reason to chase things.  AAPL was on a ridiculous sale and earnings season always gives us plenty of opportunities like Twitter (TWTR) this morning, which looks like it will be back down around $16 and very interesting to play for the bounce.  
We alredy have a TWTR spread in the OOP and it's still in good shape as we bought it last time TWTR sold off on disappointing earnings.  Now we're just waiting for this wave of selling to wash over us and maybe we can add another play.  
Perhaps we'll do it during our Live Trading Webinar, at 1pm (EST) this afternoon.
Provided courtesy of Phil's Stock World.
Would you like to read up-to-date articles on the day they are posted? Click here to become a part of our growing community and learn how to stop gambling with your investments. We will teach you to BE THE HOUSE - Not the Gambler!