When Chris Sacca said last week Twitter (NYSE:TWTR) was working on a lot of cool new projects at an accelerated speed because of Jack Dorsey, I was skeptical, because he was spending half of his time at Square. I am revoking my hesitations after this week's product releases.
Twitter is on a tear and could potentially leapfrog ahead of Facebook (NASDAQ:FB) in terms of product innovations. This is great because the company will be able to tell a more positive story on this quarter's conference call. It will have authority in this optimism because of Moments, Periscope, and the products I will discuss in this article. Jack may be the next Steve Jobs if he continues on this impressive path. Everyone knew Twitter had enormous potential, but the big worry was execution. This is no longer an uncertainty.
In January, I wrote an article about how expansions of video would improve the earnings growth of Twitter and Facebook. It has taken over 9 months, but Twitter is finally realizing what I have imagined the company would achieve. At the #VideoNOW conference Friday, TWTR said video had grown 150X in the past 12 months. This growth is still in about the second inning in terms of what its future potential is. Remember video is the most engaging content. It is 6 times more engaging than photos, which are very engaging themselves. Tweets with images are 5 times more engaging than tweets without them. If you look at the analytics on my account, the last column represents the engagement rate for the tweet. As you can see, the tweet with a picture has an engagement rate about 6 times the other ones without pictures.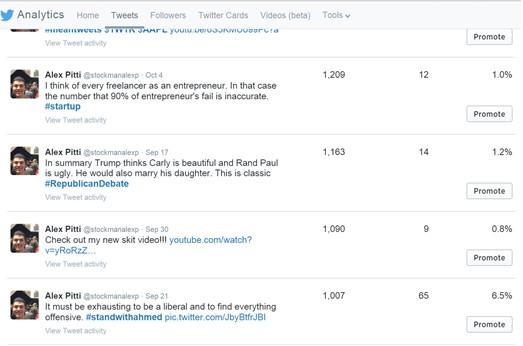 At the conference, Twitter stated its promoted tweets, combined with its audience platform that works on third-party apps, allows the firm to reach 700 million unique viewers. This is an important stat because some retail investors believe Instagram is bigger than Twitter just because it has more mobile active users. If Twitter can reach more people and sell ads to them, then it is illogical to say Instagram is bigger.
As a reader, your response to Twitter getting video may be: "So what, Twitter has video? Facebook and YouTube (NASDAQ:GOOG) (NASDAQ:GOOGL) already have this feature!" The reason why this reasoning is incorrect is Twitter videos are more live than other Internet videos. Twitter said 80% of video views come in the first 5 minutes after they are posted. This makes TWTR the go-to place for news content. This was why the company acquired Periscope, and it is why Periscope will soon be integrated into the timeline where it can be watched without having to click on a link.
Twitter video got a boost from the ability to now upload videos...
More