While talking to The Wall Street Journal, President Donald Trump has said that Apple Inc AAPL has "promised" setting up manufacturing facilities in the country. However, there was no official word from the company.
Notably, tech companies usually do not have manufacturing operations in the U.S because of higher labor costs compared with other regions like South East Asia. Most of Apple's products, including iPhones, are assembled in China. The company has been subjected to intense scrutiny by Trump regarding the same.
Trump was quoted saying "I spoke to [Tim Cook], he's promised me three big plants — big, big, big." He added "I said, 'You know, Tim, unless you start building your plants in this country, I won't consider my administration an economic success. He called me, and he said they are going forward."
Throughout his campaign, Trump has opposed Apple's decision to manufacture goods overseas and even promised that he will urge the company to bring manufacturing jobs back to the country.
Trump was quoted speaking to The New York Times in Nov 2016, "One of the things that will be a real achievement for me is when I get Apple to build a big plant in the United States, or many big plants in the United States, where instead of going to China, and going to Vietnam, and going to the places that you go to, you're making your product right here."
Ever since the Trump administration took over the White House, there have been numerous developments as far as Apple's domestic manufacturing is concerned. In May, the company announced that it would be investing $200 million in Corning Inc GLW to help create better products. Corning and Apple share a decade-old partnership. Corning has been supplying displays screens for iPhones.
Apple Inc. Price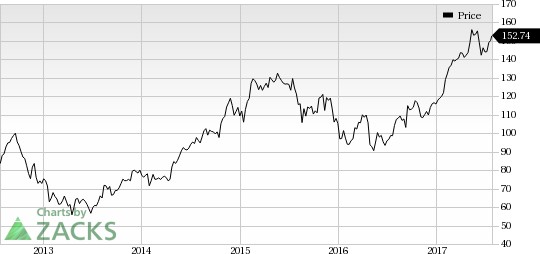 Apple has set up Advanced Manufacturing Fund of $1 billion to endorse manufacturing jobs in the U.S. Investment in Corning is the first one made by the company from this fund. It was also reported earlier that Apple's supplier, Foxconn Technology Group, is thinking of setting up a manufacturing plant in the U.S.
In March, at its shareholders' meet, Apple underscored its commitment towards job creation in the U.S. Cook had mentioned spending over $50 billion on suppliers toward manufacturing in the U.S. He further added that the company had created around 2 million jobs in the country, including manufacturing jobs. Notably, Apple manufactures Mac Pro at Austin facility and uses Broadcom's Texas-manufactured products, mostly cells/Wi-Fi radios, for its products.
Cook was quoted by media reports saying, "We're always looking for more ways to help our country. We know that Apple can only exist in the U.S." He added that nearly 70% the company's workforce is in the U.S.
Zacks Rank & Price Movement
At present, Apple carries a Zacks Rank #3 (Hold). You can see the complete list of today's Zacks #1 Rank (Strong Buy) Stocks here.
In the past one year, the stock has registered growth of 58% compared with the industry's gain of 56.7%.

Stocks to Consider
Better-ranked stocks in the broader tech space include Cypress Semiconductor Corporation CY and Twitter Inc. TWTR, both sporting a Zacks Rank #1.
Cypress and Twitter have delivered average positive earnings surprises of 83.30% and 50.37%, respectively, in the trailing four quarters.
The Hottest Tech Mega-Trend of All
Last year, it generated $8 billion in global revenues. By 2020, it's predicted to blast through the roof to $47 billion. Famed investor Mark Cuban says it will produce "the world's first trillionaires," but that should still leave plenty of money for regular investors who make the right trades early.
See Zacks' 3 Best Stocks to Play This Trend >>
Want the latest recommendations from Zacks Investment Research? Today, you can download 7 Best Stocks for the Next 30 Days.
Click to get this free report
Twitter, Inc. (TWTR): Free Stock Analysis Report
Cypress Semiconductor Corporation (CY): Free Stock Analysis Report
Apple Inc. (AAPL): Free Stock Analysis Report
Corning Incorporated (GLW): Free Stock Analysis Report
To read this article on Zacks.com click here.
Zacks Investment Research