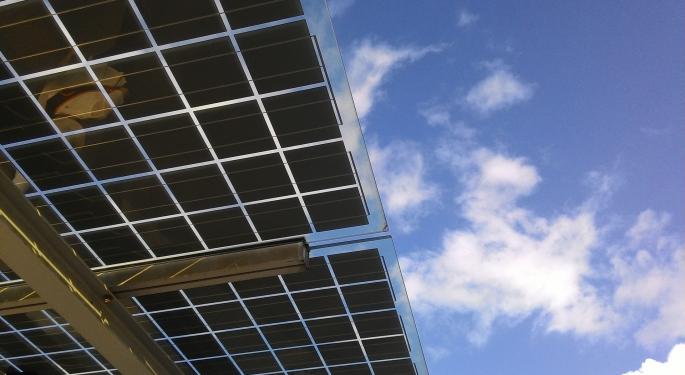 Deutsche Bank downgraded SunPower Corporation SPWR 30.08% to Hold after the solar panel maker said it expects to report a loss in 2016, cut its adjusted revenue forecast, and announced 1,200 layoffs.
The extension of federal tax credits beyond 2016 and lower prices of power purchase agreements from increasing competition, especially from Chinese solar companies, have weighed on SunPower fundamentals.
"Considering the challenging outlook for US utility market in 2017 and given the secular decline of SPWR's opportunity in the international power plant segment, we are lowering our rating to Hold, price target to $11," analyst Vishal Shah wrote in a note.
SunPower said it would cut about 1,200 jobs, or about 15 percent of its workforce, as part of its restructuring of its power plant business and manufacturing operations.
The company now expects to post a 2016 loss of $125-$175 million. It had earlier forecast to at least break even or a profit of up to $50 million. In addition, the company trimmed its full-year revenue forecast to $3 billion to $3.2 billion from $3.2 billion to $3.4 billion.
SunPower lowered its 2016 EBITDA guidance to a range of $275-$325 million or by about $175 million due to a combination of more competitive pricing environment in international markets.
For 2017, the company expects a GAAP net loss of $200-$100 million and EBITDA in the range of $300-$400 million. The company expects that at the lower end of the guidance range, 2017 EBITDA would be generated almost entirely from the company's DG business.
"While we had acknowledged that back-end loaded 2016 EBITDA guidance was likely to remain a drag on SPWR shares, the level of EBITDA guide down for both 2016 and 2017 would surprise a lot of investors," Shah noted.
| Date | Firm | Action | From | To |
| --- | --- | --- | --- | --- |
| Aug 2016 | JP Morgan | Downgrades | Overweight | Neutral |
| Aug 2016 | Deutsche Bank | Downgrades | Buy | Hold |
| Aug 2016 | Credit Suisse | Downgrades | Outperform | Neutral |
© 2016 Benzinga.com. Benzinga does not provide investment advice. All rights reserved.