I am bullish on gold in the short-term. But, I would limit the bullish outlook to the context of a medium-term, neutral market in 2014. The daily chart shows that gold has been in a triangle. The clustering of the 200-, 100-, and 50-day SMAs further reflect the directionless nature of gold in 2014 as a whole. 
Still, since June, price has been bullish, and this bullish swing has been intact. Price has moved above the cluster of moving averages, and after a dip in July, price finally respected this cluster as support and popped up above them. This is a sling-shot signal for the bullish outlook. 
However, I am limiting this bullish outlook to the triangle resistance. If there is a rally this week, we might see price challenged by this triangle resistance around 1330.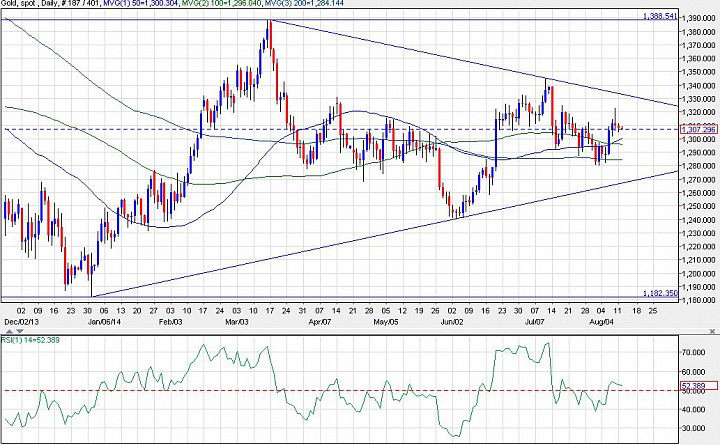 (Gold Daily Chart 8/12)
Okay, so we can say the target is 1330. What about stop-loss. Looking at the 4H chart, we see that last price action last week kicked off a bullish signal. Now, we are seeing a pullback, which is good in terms of setting up a better reward-to-risk profile for a bullish trade. 
It looks like if price falls below 1290, the bullish outlook would be in trouble, so let's say a stop-loss could be around 1285.

This means, if a buy is at 1300, we have exactly a 30:15 or 2:1 reward to risk, which can be decent if you are very bullish on the pair, but barely acceptable if you are not bought on the bullish scenario.

If you don't wait for a dip however, you do not have a decent reward to risk, unless you really expect a break above the triangle. If this is the case (you expect a bullish breakout), maybe you should wait for the breakout, then look to buy on a dip since the target will then open up for trades with better reward to risk profiles.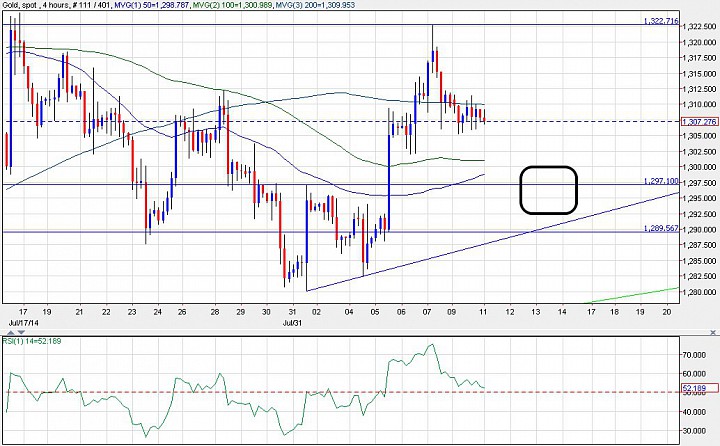 (Gold 4H Chart 8/12)