U.S. Equities: Begin The Process Of "Leaning In" - KKR H/ T Mebane Faber
----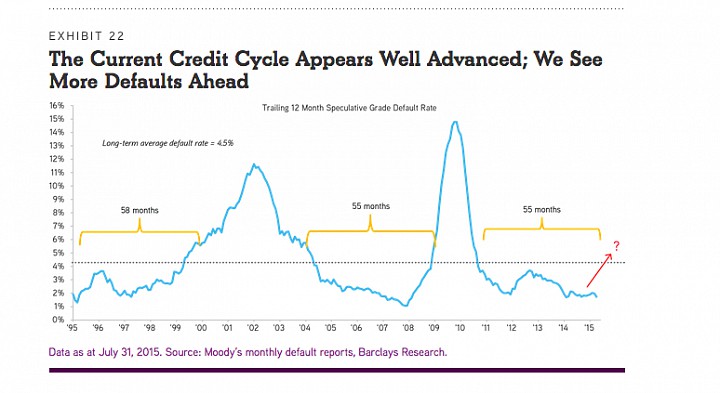 Website
U.S. Equities: Begin The Process Of "Leaning In"
We are adding two percent to our U.S. Equity position, lifting our weighting to 22% from 20% and a benchmark of 20%. This increase now takes our overall Global Equity allocation to above benchmark for the first time this year, with a notable overweight to developed markets relative to an underweight in emerging markets. See the following pages for specific details, but we fund this increase in U.S. Equities by reducing the cash balance we elected to build up in January 2015. From a cyclical perspective, we see negative sentiment, decent - albeit unspectacular - EPS growth, and reasonable valuations as signals to "Lean In" to certain parts of the U.S. market. Probably more important, though, is the positive secular case we now see unfolding for the United States. Indeed, the long-term outlook for the U.S. consumer has improved materially in recent quarters, and we now see more gains ahead, particularly around household formation. Meanwhile, Corporate America is increasingly leveraging its "Made in America" innovation across a variety of sectors, including Healthcare, Technology, and Energy Services, to distance itself from its global peers. Against this constructive macro backdrop, our allocation framework now argues for an increased weighting on both a short-term and long-term basis to the United States.
"The biggest risk is not taking any risk... In a world that is changing really quickly, the only strategy that is guaranteed to fail is not taking risks." Mark Zuckerberg, American computer programmer and internet entrepreneur, founder of Facebook Inc (NASDAQ:FB)
In January 2015 when we decided to raise our Cash allocation, reduce our overweight to Global Equities for the first time since 2011, and tilt the portfolio more defensively (see Getting Closer to Home), we did not foresee something akin to what happened on Monday, August 24th, when the market essentially went into a technical free fall, as VIX spiked to 40.7 from 13.0 just seven days prior. However, after six straight up years in the U.S. equity market amid near record low volatility, we did have enough good sense to know that it was not the time to stretch for equity returns – despite an improving outlook for the U.S. economy relative to its global peers, China in particular.
Today, we see the world differently. We no longer believe investors should get "Closer to Home." Rather, with the global capital markets quite...
More