A major shift is taking place in global stock markets.
Let me explain…
Below is a chart of the S&P 500 priced in Emerging Market Stocks.
When the black line falls Emerging Markets are outperforming US stocks. When the black line rises, US stocks are outperforming Emerging markets.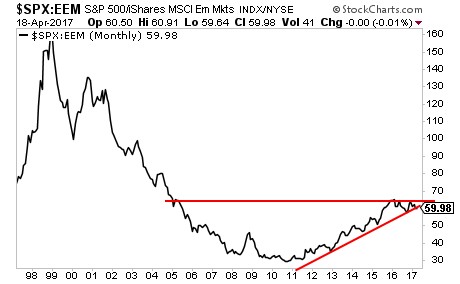 As you can see, from 1999 until roughly 2010, Emerging markets demolished stocks by a wide margin.
This trend then reversed in 2011, with the S&P 500 dramatically outperforming Emerging markets.
However, that trend now appears to be reversing. The chart has failed to break out to new highs and is now in danger of breaking its bull market trendline.
When this happens, we will once again be entering a period in which Emerging markets outperform US stocks.
Take note, that's when the opportunity for larger opportunities outside the US will take flight.
We outline this and two other major investment themes in our Special Report detailing the impact President Trump's policies will have on the markets (hint, Trump is a WEAK Dollar guy… and it's going to create opportunities in unique asset classes).
It's titled How to Profit From the Trump Trade and we are giving away just 1,000 copies for free.
Today there are a mere 19 left.
To pick up one of the remaining copies, swing by
http://phoenixcapitalmarketing.com/trump.html
Best Regards
Graham Summers
Chief Market Strategist
Phoenix Capital Research