Earlier in a week, we saw Gold (XAU/USD) break out of a price bottom.
Gold (XAU/USD) 1H Chart 10/21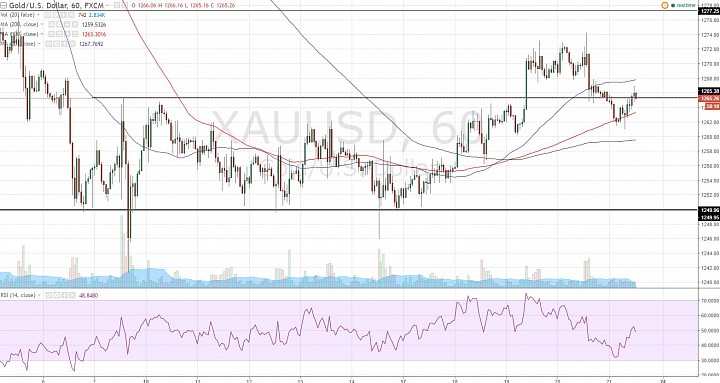 (click to enlarge)

Pullback after breakout
- The 1H chart shows price flattened in October into something like a consolidation range.
- But we saw price rally this week to break out above this range. I noted in the previous update, that this exposes the 1300 handle at least. 
- So far, price has found resistance around 1273 and completed a small price top when price fell below 1268.

At the crossroad
- Now, if price holds above 1256, I think gold is still bullish. 
- However, unless price pushes back above 1268, the small price top would still be in place, and the bullish outlook would be on the shelf as well.
- I would like to see more consolidation action in gold. 

Reward to risk of buying at 1260
- But if price falls back to about 1260, I would consider buying with upside to 1300. 
- If price gets to 1255, I would watch out for bearish continuation. 
- Let's say price gets to 1260 and stalls, showing signs of support.
- If the stop is at 1255 and initial target is 1270, the reward to risk would be 10:5. This is a conservative bullish outlook.
- The aggressive bullish outlook towards 1300 offers a 40:5 reward to risk.