I just
wrote about the EUR/AUD
and the potential for a further dowswing, so I might as well also take a look at the GBP/AUD.
<!== INSTRUMENT %% %1440% ==!>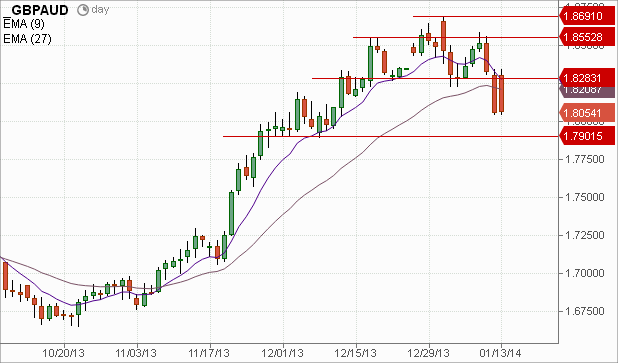 While the EUR/AUD had set up in a double top pattern, in the GBP/AUD we saw a well structured head and shoulders pattern.

The neckline of that H&S around 1.8280 was cleanly broken in today's trading.

That opens up the possibility of a projected move, which in the case of a H&S is the height of the distance from the neckline to the "head" (1.8690 to 1.8280, or around 400 pips) which is then projected downward from the neckline (1.8280) to give a target of 1.7880.

The pair has a pretty important pivot just above that at 1.79, so that would be the downside target for that pattern.

It might be prudent to see if there will be a slight move higher (such as a return to the neckline as a level of resistance) that could be faded considering the strong bearish candle in place already. However, with such a clean pattern and break, any upmove might be limited.