Back on July 28, following Twitter's second quarter earnings release which beat across the board (sending the stock surging above $40) just before Jack Dorsey came on the call with some of the most disheartening guidance ever revealed for a social media company (sending the stock crashing), which resulted in the lowest TWTR stock price since the IPO, we had one question: was Twitter management getting its conference call "tips" from the Coen brothers, and particularly their 1994 masterpiece, the Hudsucker Proxy...
Is TWTR management pulling a Hudsucker Proxy?

— zerohedge (@zerohedge)

https://twitter.com/zerohedge/status/626140300088602624
... in which the board of a public company desperately tries to crash their own stock so they can buy it on the cheap?
Today we got the first answer, and it was affirmative. In a Form 4 filed earlier today, we found out that a crash in the stock is just what founder and interim CEO Jack Dorsey was waiting for before buying another 31,627 shares on Friday for a price of just $27.67.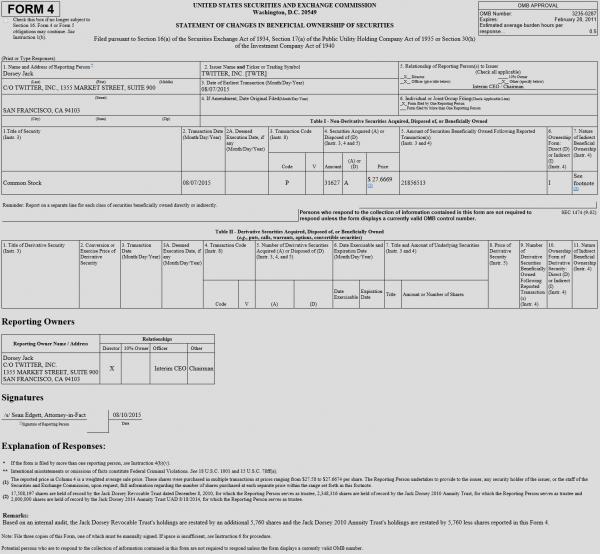 After Friday's purchase, Dorsey now owns a total of 21,856,513 total shares, or about 3.3% of the total.
But, what is more notable, is that at $27, Dorsey could buy 50% more stock for a given amount of cash, than he would buy had TWTR remained at the $40 price level where it was when he started discussing TWTR's growth potential on July 28.
So, as TWTR actively pursues its next CEO, we wonder: just what is the likelihood it will be Norville Barnes. "You know, Twitter for kids."