Shares of Sears Holdings Corp. SHLD opened more than 20% higher on Thursday morning after the struggling retailer announced that it would begin selling its Kenmore appliances on Amazon AMZN.
Sears, which has been dealing with consistently slumping sales for years, will now have access to Amazon's massive customer base—its largest potential pool outside of its own brick-and-mortar stores. The company also announced that it will be integrating Amazon's Alexa technology into its new line of appliances.
Sears Holdings Corporation Revenue (TTM)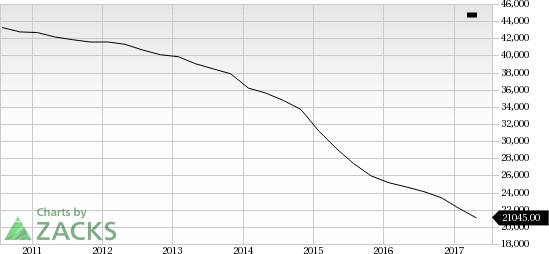 Sears Holdings Corporation Revenue (TTM) | Sears Holdings Corporation Quote
"We continuously look for opportunities to enhance the reach of our iconic brands to more customers and create additional value from our assets," said Sears CEO Eddie Lampert. "The launch of Kenmore products on Amazon.com will significantly expand the distribution and availability of the Kenmore brand in the U.S."
The announcement comes just days after it was revealed that Sears had received a new line of credit from Lampert's own hedge fund, ESL Partners. This fresh batch of loans from ESL were said to have a maturity of 151 days and a fixed interest rate of 9.75% per year.
Choosing to sell Kenmore appliances on Amazon—which is at least partially to blame for the company's continuing struggles—is clearly another step in what Sears has called its "transformation" and renewed focus on "returning to profitability."
Earlier this month, Sears cited this transformation plan for its decision to close an additional 43 stores, including 35 Kmart and eight Sears locations. The company had already announced 265 store closings this fiscal year.
Want more stock market analysis from this author? Make sure to follow @
https://twitter.com/Ryan_McQueeney
on Twitter!
3 Top Picks to Ride the Hottest Tech Trend
Zacks just released a Special Report to guide you through a space that has already begun to transform our entire economy...
Last year, it was generating $8 billion in global revenues. By 2020, it's predicted to blast through the roof to $47 billion. Famed investor Mark Cuban says it will produce "the world's first trillionaires," but that should still leave plenty of money for those who make the right trades early. Download Report with 3 Top Tech Stocks >>
Want the latest recommendations from Zacks Investment Research? Today, you can download 7 Best Stocks for the Next 30 Days.
Click to get this free report
Amazon.com, Inc. (AMZN): Free Stock Analysis Report
To read this article on Zacks.com click here.
Zacks Investment Research