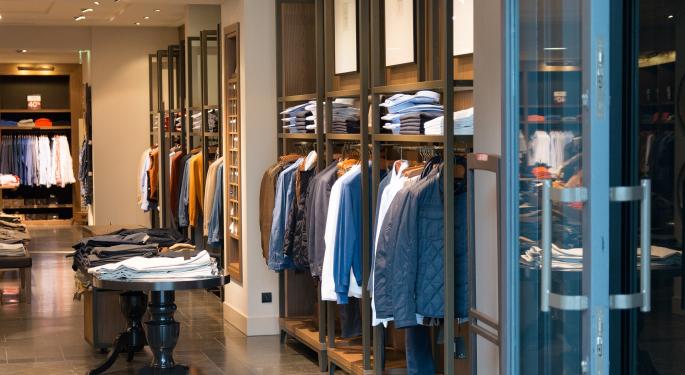 TJX Companies Inc TJX released its Q2 results before the open on Tuesday. Earnings per share came in above Wall Street consensus expectations, however, shares shares fell 3.52 percent due to the company's low same-store sales growth compared with last year.
TJX Companies reported EPS of $0.84 and revenues of $7.9 billion. Analyst consensus had an EPS estimate of $0.81 and revenues of $7.85 billion. Consolidated comparable store sales increased 4 percent during Q2 vs. last year's 6 percent growth.
Among the greatest disparities between year-over-year metrics was TJX Europe and Australia's 2 percent same-store sales growth vs. last year's 5 percent and Homegood's (U.S.) 5 percent same-store sales growth vs. 9 percent last year.
TJX Companies saw Q3 EPS at $0.83-$0.85 vs. estimates of $0.9 and Q3 Same Store Sales Growth of 2-3 percent. Company management raised FY17 forecasts for comp sales to increase 3% to 4% and earnings per share to be in the range of $3.39 to $3.43.
"We are extremely pleased that our comp store sales growth was almost entirely driven by customer traffic. We are convinced that we are gaining consumer market share as our excellent values on a compelling selection of brands and fashions are drawing customers to our retail brands around the world. We also are very pleased that our apparel, including accessories, and home businesses both performed well," said Ernie Herrman, CEO and president. "Further, we saw a strong merchandise margin increase. We believe our robust sales, customer traffic and merchandise margins all speak to the strength of our off-price retail model."
The CEO added, "The third quarter is off to a solid start, and we see plentiful opportunities for our business in the second half of the year and beyond. We remain laser focused on achieving our goals for 2016 and are passionate about surpassing them."
At time of writing, TJX Companies traded at $79.86 in Tuesday's pre-market session.
© 2016 Benzinga.com. Benzinga does not provide investment advice. All rights reserved.