Sanofi SNY recently announced that the European Medicines Agency's (EMA) Committee for Medicinal Products for Human Use (CHMP) has given a positive opinion, recommending marketing approval to a biosimilar version of Eli Lilly & Company's LLY Humalog (insulin lispro). The biosimilar candidate was submitted for approval in EU in Sep 2016.

Please note that a final decision from EU on the marketing authorization for Insulin Lispro Sanofi is expected in the coming months.

Shares of Sanofi have outperformed the Zacks classified Large Cap Pharma industry so far this year. The stock has gained 21.9% during the period, while the broader industry witnessed an increase of 8.6%.





Coming back to the latest news, the positive opinion was supported by data from a pharmacokinetic phase I study and two multi-center phase IIIa studies (SORELLA 12 and SORELLA 2). While the phase I study evaluated the product's similarity in exposure and activity compared to Humalog, the phase III studies were designed to evaluate the safety and efficacy compared to Humalogd. The studies were conducted in more than 1,000 adults with type I or type II diabetes.

We remind the investors that Sanofi's Diabetes franchise is under pressure with key product, Lantus, facing increasing competition at the payor level. The drug is also exposed to biosimilar competition in several European markets. Moreover, Lilly's Basaglar, a follow-on insulin glargine product of Lantus entered the U.S. market in Dec 2016. Sanofi expects its global Diabetes sales to decline 4–8% annually (at constant exchange rates) over 2015–2018.

During the first-quarter 2017 conference call, management warned that the U.S. diabetes franchise sales will decline faster through the rest of the year. The Diabetes franchise (including emerging markets) declined 6% to €1.66 billion in the first quarter of 2017. The decrease is anticipated due to exclusion from the UnitedHealth Group Inc. UNH formulary plans, which started on Apr 1, 2017 as well incremental effect from the CVS Health Corp. CVS formulary exclusion.
Sanofi Price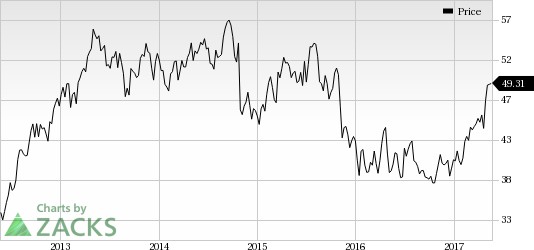 Zacks Rank
Sanofi currently carries a Zacks Rank #2 (Buy). You can see the complete list of today's Zacks #1 Rank (Strong Buy) stocks here.
Zacks' 2017 IPO Watch List
Before looking into the stocks mentioned above, you may want to get a head start on potential tech IPOs that are popping up on Zacks' radar. Imagine being in the first wave of investors to jump on a company with almost unlimited growth potential? This Special Report gives you the current scoop on 5 that may go public at any time.
One has driven from 0 to a $68 billion valuation in 8 years. Four others are a little less obvious but already show jaw-dropping growth. Download this IPO Watch List today for free >>
Want the latest recommendations from Zacks Investment Research? Today, you can download 7 Best Stocks for the Next 30 Days.
Click to get this free report
Sanofi (SNY): Free Stock Analysis Report
Eli Lilly and Company (LLY): Free Stock Analysis Report
UnitedHealth Group Incorporated (UNH): Free Stock Analysis Report
CVS Health Corporation (CVS): Free Stock Analysis Report
To read this article on Zacks.com click here.
Zacks Investment Research