Last time we looked at UPS, we noted that its false bearish breakout suggested a pending bullish breakout.

UPS Daily Chart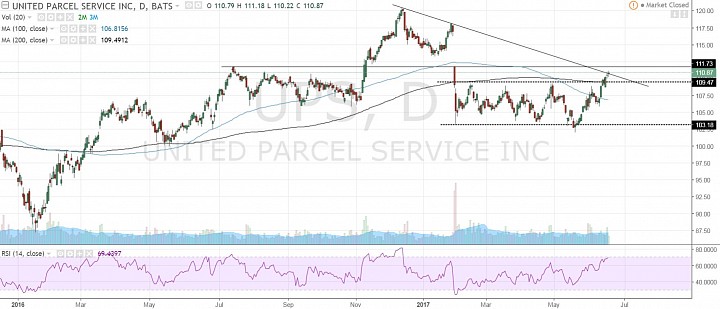 (click to enlarge)

Bullish-Neutral:
- The daily chart shows a market that has been bullish since 2016, but has somewhat flattened.
- Price action recently looks to be reviving the bullish outlook.
- The false breakout to the downside in May suggested that the bearish correction might be over.
- Last week's bullish breakout above 100.50 could signal this bullish outlook, but price is still seeing some resistance here around 111.
- Clearing above the 112 handle might bring in more bullish momentum.
Secular Bull Trend:
- The weekly chart shows that the market has been in a long-term uptrend since the financial crisis of 2008.
- The fact that price bounced off the 200-week simple moving average (SMA) suggests that this is still a bullish market.
- Furthermore, the RSI held above 40, suggesting that the prevailing bullish momentum since 2016 has been maintained.
- We might even anticipate another high (above 120) by 2018.
(click to enlarge)