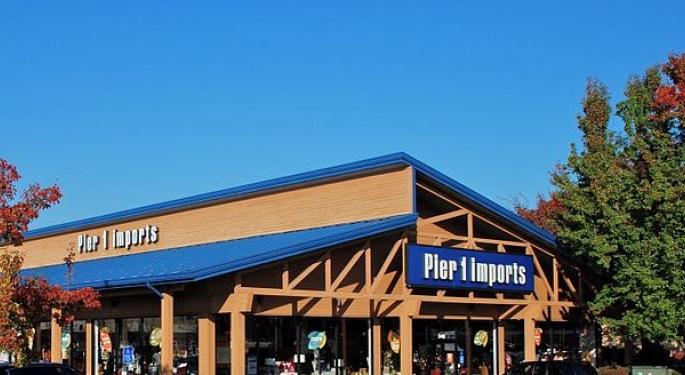 Initiating coverage of four specialty hardline retail companies, Loop Capital Markets' Anthony Chukumba recommended going long on Pier 1 Imports Inc PIR 2.71%. He cited the company's improving fundamentals, easy year-over-year comps ahead and healthy free cash flow as reasons for the recommendation.
Pier 1
Chukumba assigned a Buy rating and a price target of $12, reflecting 41 percent upside from the current levels. He mentioned that since the recent issues being faced by the company were mostly "self-inflicted," management should be able to fix them, particularly in view of Jeff Boyer taking over as chief financial officer in 2015 and the "likely hiring of a "change agent" as CEO."
Chukumba expects Pier 1 to report improved financial in 4Q 2016 and F2017, backed by easy comps. He added, "Alden Global Capital's recent accumulation of a 9.2 percent stake in Pier 1 provides us with additional comfort in recommending the stock. We believe Alden will provide a helpful outsider's perspective to Pier 1's current challenges, as well as an additional "sense of urgency" to execute the ongoing turnaround plan."
Pier 1 has been generating healthy free cash flow and ensuring consistent shareholder returns. The company has repurchased more than $460 million worth of shares since the beginning of fiscal year 2014 and currently has a dividend yield of more than 3 percent.
Williams-Sonoma
Chukumba assigned a Hold rating to Williams-Sonoma, Inc. WSM 1.53%, with a price target of $54. Although Williams-Sonoma's share price is low, the valuation appears appropriate, given the company's decelerating top-line growth and stagnant profit margins as well as "a lack of significant positive catalysts on the horizon."
Tractor Supply
The analyst assigned a Hold rating to Tractor Supply Company TSCO 1.93%, with a price target of $79.
"While we admire the company's clear market leadership, long track record of consistent top- and bottom-line growth, relentless focus on continuous improvement, and strong free cash flow, given the recent topline weakness and lofty relative valuation we have a difficult time recommending the stock at current levels," the Loop Capital Markets report stated.
RH
Chukumba assigned a Hold rating to RH RH 3.41%, with a price target of $31. He said that although RH (formerly known as Restoration Hardware Holdings) has bright long-term prospects, the company's "recent struggles have rendered it a "show me story."
The analyst recommended waiting for "more concrete evidence" of the issues faced by RH in fiscal 2016 being "temporal" and of management having "a good handle on the company's many moving parts."
Image Credit: By Steve Morgan (Own work) [CC BY-SA 3.0 or GFDL], via Wikimedia Commons
Date
Firm
Action
From
To
Jan 2017
Loop Capital
Initiates Coverage On
Buy
Dec 2016
Johnson Rice
Upgrades
Hold
Accumulate
Sep 2016
Jefferies
Maintains
Hold
© 2017 Benzinga.com. Benzinga does not provide investment advice. All rights reserved.