The GBP/USD has been consolidating since early January, though it did edge out a new low last week at 1.4951.

GBP/USD 4H Chart 1/30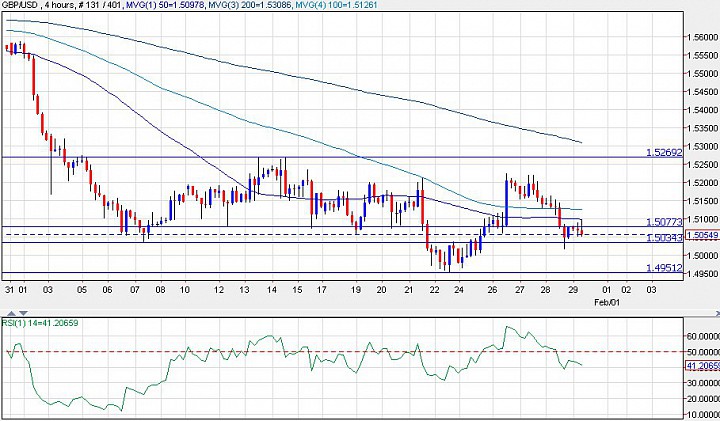 (click to enlarge)

Now, cable is trading at the crossroads. 

Earlier on in the month, when USD/JPY was consolidating with common resistance at 1.52. Then there was a clear-out to 1.5270. However, the fact that the following higher was held at 1.52 suggested bearish continuation. Price indeed continued lower, but again rebounded to that 1.52 level.

This week, GBP/USD fell after a hawkish FOMC statement. It is now trading in a support area roughly between 1.5035-1.5075. 

Now, if price falls below 1.5025, it is likely going to continue the bearish trend and pressure the 1.4951 low with risk of breaking towards 1.49. However, a break above 1.51 should put pressure back at the 1.52 area. This could potentially be the right shoulder of an inverted head and shoulders pattern. 

Today's GDP might help determine which way GBP/USD will break from its 1.5025-1.51 intra-session range, and put it either in a bearish continuation mode, or in further development of a possible price bottom.