Last week, we were stalking Blackberry (BBRY) as it was sliding towards 9.00. We noted a support/resistance pivot in the 8.00-8.75 area, where we can anticipate at least some support with upside back towards 9.50 if not higher.

Blackberry (BBRY) Daily Chart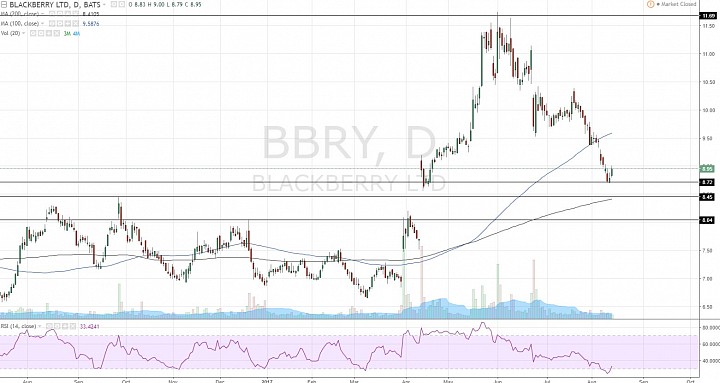 (click to enlarge)
Bearish Correction:
- BBRY was in a sharp bullish swing from March through May.
- After tagging 11.70, it has been retreating from June until now.
- Price is essentially around the 61.8% fibonacci retracement level as well.
- Also note that the RSI was in oversold levels (under 30).
Upside:
- I think there is upside towards 9.50.
- From a spot trading perspective, a entry for a buy would be better closer to 8 because the rebound scenario would still be viable around that level.
- This is because we would need a conservative target of 9.50 and a stop below 8.00, so the reward to risk is better for a buy around 8.00.
- 10.00 and 11.75 would be the more aggressive targets, but would still be in line with the bullish swing started in March 2017.