In the recent months, Boston Beer (SAM) has been mounting a bull run, rallying from a low on the year of 145.33 up to about 195.30.

SAM Daily Chart 8/31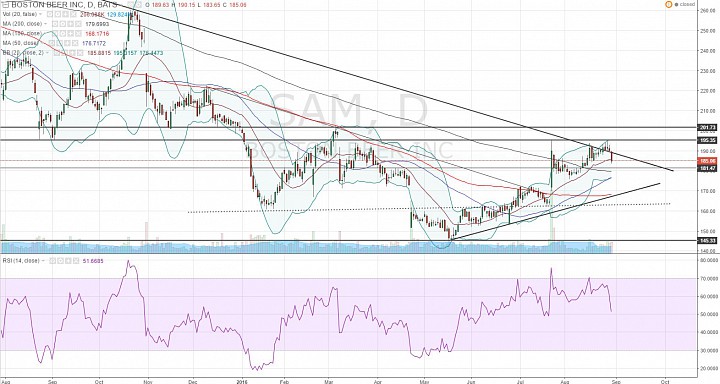 (click to enlarge)

Key resistance:
- When price reached 195, it entered a key resistance area. 
- First of all, this is a key support/resistance area.
- This area was also reinforced by a falling trendline.

Retreat; key support:
- After putting pressure on the 195.00 resistance throughout August, price is retreating.
- If price does retreat, we should look at the 170 area as key support.
- Note a support/resistance area around 170.
- This is where the bottom of the 200-, 100-, and 50-day simple moving average (SMA) cluster.
- There will also be a rising trendline.
- Also, we should monitor the daily RSI as it approaches 40.
- If we see price flattening around 170 and the RSI turn up around 40, we should anticipate another attempt towards 195.
- A break below 170 however reflects the continuation of the prevailing bearish mode since the beginning of 2015, when price reached 325.
The most recent news on SAM from streetsupdates.com:
In the company's insider trading activities, ROPER MARTIN F; President and C.E.O. of Boston Beer Co. Inc. sold 7000 shares worth of $1337826 in a transaction on 29 Aug 2016. In this transaction, these shares were sold at value of $191.12 per share, according to the information disclosed by the Securities and Exchange Commission in a Form 4 filing on 30 Aug 2016. (More on streetsupdate.com)