The retail sector received a much-needed boost on July 13 as stocks logged their best single-day return of this year. SPDR S&P Retail ETF XRT was up over 2.3% on the day while its year-to-date return is still in the red. With Thursday's stellar returns, the fund is now down about 9.4% in the year-to-date frame (as of July 13, 2017).
Credit Goes to Target Corp.
Target Corp. (TGT) guides sales to grow for the first time in five quarters, backed by higher traffic and improving sales trends. Target raised its expectations for comparable store sales to a modest increment for the current quarter from the previous forecast of negative comps. Earnings are now projected above the high end of Target's forecast of $0.95–$1.15 per share. TGT was up about 4.8% on July 13.
The news acted as a cornerstone for the entire space. Hint of improvement in traffic to a brick-and-mortar retailer spurred hopes of a trend reversal in the overall retail space.
Inside Brick-and Mortar's Constant Pain
The sector as a whole has so far been under pressure. After witnessing decent growth in January, U.S. retail sales recorded a decline in February, a moderation in March, a lukewarm improvement in April, and a slight drop in May (read: 5 ETFs & Stocks: Silver Lining in Soft May Retail Sales).
Disappointing earnings results were noticed from several traditional brick-and-mortar operators lately while web-based shopping surged. As of now, online retail sales make up one tenth of total retail and about 5% of annual e-commerce revenue in the U.S. The space is developing fast with the increased usage of smartphones and other mobile internet devices. Amplify Online Retail ETF IBUY is up over 33% so far this year.
Notably, the online e-commerce behemoth Amazon AMZN just saw a record third annual Prime Day. This was the biggest shopping day in the company's history, surpassing Black Friday and Cyber Monday (read: Amazon Prime Day Hits Record: 5 Best ETF Deals).
Other Retail Stock Winners Post Target-Induced Boost
On July 13, several retail stocks were on a tear. J. C. Penney Company JCP (up 7.8%), Macy's M (up 4.1%), The Gap GPS (up 5.6%), American Eagle Outfitters Inc. AEO (up 4.6%), Sears Holdings Corporation SHLD (up 7.2%), Dillard's, Inc. DDS (up 6.3%), Kohl's Corporation KSS (up 4.8%) are some of the winners.
Why These ETFs to Play
Investors should note that the Zacks Industry Rank for discount retailers is in top 38%. The Zacks Industry Rank for catalog shopping is in top 1%. Agreed, there are a lot of corners in the retail space that are in the bottom section, but if Target's indication proves right for the whole space, investors can play the below-mentioned ETFs.
XRT in Focus
This product tracks the S&P Retail Select Industry Index, holding about 100 securities in its basket with none accounting for more than 1.49% of assets. Apparel retail takes the top spot at 21.6% share while internet & direct marketing retail, specialty stores, and automotive retail round off the next three spots with a double-digit allocation each. It has a Zacks ETF Rank #2 (Buy) (read: Amazon's Foray Into Grocery to Hurt/Help These Stocks & ETFs).
VanEck Vectors Retail ETF RTH

This fund provides exposure to the 26 largest retail firms by tracking the MVIS US Listed Retail 25 Index. It is highly concentrated on the top firm – Amazon – at 19.8% while other firms hold less than 5.33% share. The fund is a mix of consumer discretionary and staples stocks with the former accounting for about 60% of the fund and staples taking about 30% share. The fund has a Zacks ETF Rank #1 (Strong Buy).

PowerShares Dynamic Retail Portfolio PMR
This fund follows the Dynamic Retail Intellidex Index. In total, the product holds 30 securities with each holding less than 5.34% of assets. In terms of industrial exposure, specialty retail takes the top spot. The fund has a Zacks ETF Rank #3 (Hold).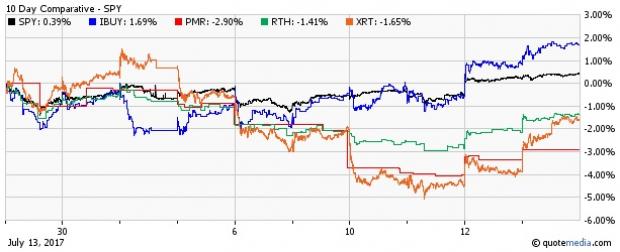 Want key ETF info delivered straight to your inbox?
Zacks' free Fund Newsletter will brief you on top news and analysis, as well as top-performing ETFs, each week. Get it free >>
Want the latest recommendations from Zacks Investment Research? Today, you can download 7 Best Stocks for the Next 30 Days.
Click to get this free report
Amazon.com, Inc. (AMZN): Free Stock Analysis Report
VANECK-RETAIL (RTH): ETF Research Reports
SPDR-SP RET ETF (XRT): ETF Research Reports
AMPL-ONLN RETL (IBUY): ETF Research Reports
PWRSH-DYN RETL (PMR): ETF Research Reports
American Eagle Outfitters, Inc. (AEO): Free Stock Analysis Report
Gap, Inc. (The) (GPS): Free Stock Analysis Report
Macy's Inc (M): Free Stock Analysis Report
Dillard's, Inc. (DDS): Free Stock Analysis Report
J.C. Penney Company, Inc. Holding Company (JCP): Free Stock Analysis Report
Kohl's Corporation (KSS): Free Stock Analysis Report
To read this article on Zacks.com click here.
Zacks Investment Research
Want the latest recommendations from Zacks Investment Research? Today, you can download 7 Best Stocks for the Next 30 Days. Click to get this free report